History BSAP Flags and Symbols Rank Structure and Badges of Rank Roll of Honour
BSAP Vehicles Police Reserve Air Wing BSAP Mounted Unit Contact BSAP Regt Assoc.
The Epitaph
The photo below shows the arrival of the Governor, Lord Soames, in Bulawayo on 4 January 1980. The photo, in Outpost was provided by CID photographer Chris Mills. This is an excellent picture with more than a touch of unconscious symbolism. The line of the RAF Hercules and the awaiting motocade, led by Section Officer Alan Hadfield in the forground, drew an unmistakeable shape of a question mark as we ventured into the new decade.

The motor vehicles in the photograph are the Police Peugeot Bee Car as well as the two Daimlers that conveyed Lord Soames around - I seem to recall that they were airlifted in; the one used by Sir Humphrey Gibbs having probably been excused service by the British as being too old!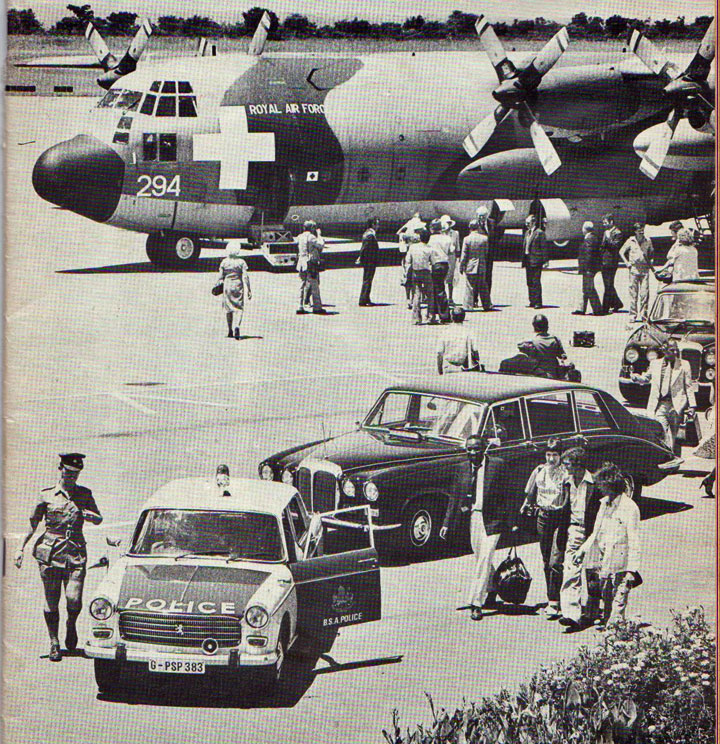 Outpost extract and photo sent to us by Rob MacLean