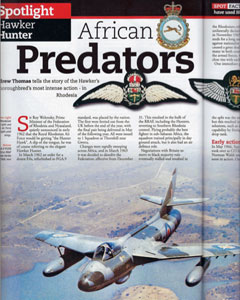 Flypast Magazine June 2011
African Predators: an article about the Rhodesian Air Force Hunters
Phillip Evans, writing in ORAFS, has given us all a great heads-up about an article in the June 2011 issue of Flypast Magazine. This is a must for anyone at all interested in the Rhodesian Air Force and the Anti-Terrorist Operations 1966 to 1980.
The seven page article is very good and features excellent photographs:
Steve Murray and the Hunter,
a good look inside the F95 camera pod,
Rich Brand in a close-up of the nose of the Hunter,
and an excellent line abreast of the Hunter and the Vampire, among them.
Although simply a magazine, this is a good addition to anyone's Rhodesian library.
Get a copy if you can:
their web site..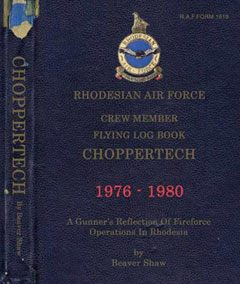 Choppertech by Beaver Shaw
A Gunner's reflections of Fire Force Operations in Rhodesia
In this book, Beaver Shaw sifts through mounds of log book entries and other information that he has gathered from friends over many years. He has added his flying logbook entries as they appear in his logbook as a reference and guide to his book. He writes his book as he remembers it, and has used words and phrases that they used during the war days. Good or bad, these fortunately or unfortunately, were the days of war and this is a book of his days . . . fighting a terrorist war! Choppertech is a book that lets facts speak for themselves, showing ultimately that the truth is no less amazing than fiction and that the scars never heal.
To Order Choppertech:
Please contact Mimi Cawood on e-Mail canic@mweb.co.za
Cost: R350.00 per book (exc p & p)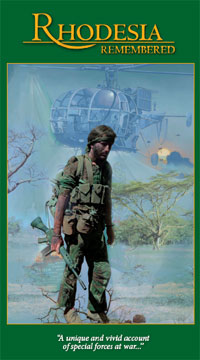 The RLI DVD: Rhodesia Remembered
Described as one of the best made series of films on the Rhodesian war, as told through the experiences of those who fought in it, this 3 film set is now available to order:

1.Rhodesia Remembered : 45 minutes
Narrated by James Faulkner, Rhodesia Remembered, tells the story of the Rhodesian bush war in the 1970's as seen through the eyes of men who served in the Rhodesian Light Infantry, a unit which honed the art of Fireforce to its ultimate deadly perfection.
2. The Troopie : 35 minutes
At the end of the war the Trooper, a bronze statue cast to commemorate those who served and died in the RLI had to be smuggled out of Zimbabwe to avoid imminent destruction. The Troopie, narrated and including music by Isla St. Clair, captures the poignant events on a sunny day in September when over 200 members of the RLI from around the world came together to celebrate and remember those that fell and to commemorate the end of the "Troopie's" long and eventful journey with a rededication ceremony in Hatfield, England.
3. The Nkomo Assignment : 30 minutes
This is the story of the attempt to assassinate Joshua Nkomo, leader of ZIPRA, the military wing of ZAPU. after the shooting down and the massacre of the civilian survivors of the Viscount aircraft Hunyani in the Rhodesian bush war. Tasked to carry out the operation, a member of the Selous Scouts, tells the story of the raid, his betrayal, capture and torture.
The cost of this 3 film DVD is £15.99 
Postage and packaging For orders in the United kingdom: £2.95
Ordering can be done through the RLIRA web site.
Or by Telephone: 01234 852800 – please phone between 16:00 and 18:00 (4 o' clock to 6 o' clock)
You can fax your order to: Fax: 841886 (any time). If you do fax please remember to include postage and payment details.
All telephone and fax numbers are relevant to the United kingdom. Please remember to use country codes and the time difference!
DVD's will only be sent out once payment has been received.
For additional information and ordering details go to the RLIRA web site.
---
OPERATION MIRACLE
A sincere tribute to Three Bold Airmen, KIA 3 October 1979.
They lie in unmarked graves, God alone knows where. Hunter pilot Brian Gordon, and Canberra crew Kevin Peinke and JJ Strydom (SAAF navigator on secondment) were killed on day 5 of Operation Miracle, after most of the ground troops had withdrawn from the battle field.
Geldenhuys, Manser, McKenzie
Operation Miracle is a fascinating story. From an Air Force perspective, it is a sincere tribute to Three Bold Airmen, KIA 3 October 1979. They lie in unmarked graves, God alone knows where. Selous Scout Trooper Gert O'Neill was killed on Day 1 of Operation Miracle, clearing trenches; Trooper Ted Mann was tragically killed later when a captured weapon exploded while being made safe. Their bodies were repatriated and given decent burials.

The aircrew honoured are Hunter pilot Brian Gordon, and Canberra crew Kevin Peinke and JJ Strydom (SAAF navigator on secondment). They were killed on day 5 of Operation Miracle, after most of the ground troops had withdrawn from the battle field. Two months later, the ceasefire was declared, followed four months later by a change of Government - who were really not interested in recovering the aircrew (bodies) who had paid the supreme sacrifice in the defense of their country. History will show that the government of the day was more concerned with disbanding elite Rhodesian Security Force units - the SAS, RLI, Selous Scouts and destroying the Air Force.

Tol Janeke wrote in the Introduction to Operation Miracle (anyone who knows Tol will immediately recognise that he does not mince his words). He wrote:
"What is it that makes Op Miracle so unique? It was certainly not he first time that the Rhodesian Forces had carried out bold attacks on the enemy, beyond their borders. Nor was it significant in the size of the air or ground effort employed by them. But it was a time when the emphasis was inexorably moving from a bush conflict into a war with sophisticated weapons and technology. The advantage of air superiority, long enjoyed by the Rhodesian Air Force was slipping away. The crew flying on air operations were well aware that the risks, particularly on cross-border missions, were becoming very high.

Negotiations for a political settlement were underway. Only six short months after Op Miracle, a new government would take over the country. Many Rhodesians had already left their homeland even as it became obvious that the war was drawing to weary end. The combatants were mentally and physically exhausted and were clamouring for peace.

It was at this time of change that Op Miracle demanded one last, big effort from the Air Force. This was given as always, with courage and determination. These are the qualities that we now seek to honour and remember after all the years. This book, Op Miracle symbolises all that was courageous and audacious in the fighting men and women of Rhodesia. It is a tribute to those that made the ultimate sacrifice."

Available from Peysoft.
---
MASODJA
The history of the Rhodesian African Rifles and its forerunner the Rhodesia Native Regiment
By Alex Binda
Commissioned and compiled by Brigadier David Heppenstall
and the RAR Regimental Association (UK)
Originally formed as The Rhodesia Native Regiment during World War I, this fine regiment first saw action in East Africa, pitted against the wily von Lettow-Vorbeck and his army of German askaris. Disbanded and later re-formed, the regiment was to distinguish itself during World War II in the North Africa and Burma campaigns. Using the counter-insurgency experience gleaned from the Malayan Campaign of the 1950s, the RAR provided the front-line troops in the battle for Rhodesia in the country's bitter civil war of the 1960s and 1970s.

In the spirit of The Saints—The Rhodesian Light Infantry, collectors and military enthusiasts will now be able to add to their collection of leather-bound, limited editions. 150 limited, leather-bound copies of Masodja will be available for purchase through 30° South Publishers. The response to this has already been very encouraging with many collectors matching their numbered editions of The Saints to that of Masodja. This limited edition will carry book plates signed by the author, Alex Binda, and Brigadier David Heppenstall.

Available from 30° South
---
Insignia and History
of the Rhodesian Armed Forces, 1890 - 1980
By Dudley Wall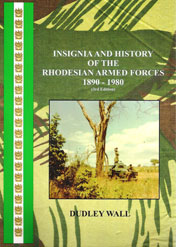 ISBN: 0-620-29064-1
111 pages, full colour soft bound paperback (Foolscap)
54 colour plates of insignia of all services
(Rhodesian Army, Rhodesian Air Force, Intaf and Guard Force)
stable belts, flags, uniforms, berets, badges of rank, etc.
75 type written summaries of unit histories.
3rd Edition 2005, R250

This is a most interesting book with a history of most of the Rhodesian Forces and the insignia (past and present) of each.

The histories are on the brief side, but give a good background to how the Rhodesian Forces were structured, and why the various units were formed. The Insignia are shown in outstanding colour plates. They are comprehensive, but not exhaustive.

Considering the very broad base of the subject matter, I think the book is marvellous, and a good purchase for anyone interested in the badges and insignia of the Rhodesian Forces.
You can contact the author/publisher by e-mail.
---
Rhodesia Medal Roll
Honours and Decorations of the Rhodesian Conflict 1970 - 1981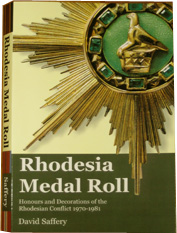 ISBN: 0-9553936-0-4
312 pages, full colour soft bound paperback
Published 1 Oct 2006
Cover Price £17.95

This excellent book contains the details of over 12,000 Rhodesian Honours awarded to individuals between 1970 and late 1981. Such honours were recorded in notices published in the
Rhodesia Government Gazette,
The Zimbabwe Rhodesia Government Gazette,
The Southern Rhodesia Government Gazette
and the Zimbabwe Government Gazette.

The book corrects a few errors and omissions in the roll that were previously reproduced in publications in the late 1970s.
GSMs, DSMs and Prison GSMs are not included

This is a definitive record of Honours and Decorations. They are listed in Decoration Order. At first glance I suspected that that would make it impossible to research an individual's awards, but in fact an excellent index makes it a very easy task.

A must have for anyone wishing to study Rhodesian Military History, or to authenticate claims of valour and other honours.
---
The Saints - The Rhodesian Light Infantry

ISBN: 978-1-920143-07-7
400 pages, full colour on 100gsm art paper
Standard edition format: Hard Cover with Dust Jacket
Leather edition format: Wintan (Sapin) bonded leather + slip case
Msasa Enterprise 90 min DVD included
More details: http://www.30degreessouth.co.za/home.htm .
---
Winds of Destruction
Group Captain Peter Petter-Bowyer, MLM, DCD, MFC.
The 588 page autobiography of a Rhodesian born pilot covering the Rhodesian bush war of 1967 - 1980.
This life story of Peter, known as PB, from his early days as a child to his retirement from the Air Force is a detailed and cracking read. He is well known for his enthusiastic development of air recce skills on No 4 Sqn, and later, in the development of air to ground weaponry, so this personal account gives us an insight and interesting view of Air Force life, operations and weapons development before and during the Rhodesian war.

ISBN No.141201204-X.
Printed by "Trafford Publishing"
Soft cover.
To obtain a copy E-mail: sales@trafford.com
---
Pride of Eagles by Beryl Salt
A Definitive History of the Rhodesian Air Force 1920-1980
ISBN No. 0-620-23759-7
Printed by Creda Communications, Elliot Ave, Epping II 7460, RSA
---
If you have a book connected to the military of Rhodesia that you would like to see reviewed on this web site, please send it to the web master. Please note that books will not be returned, but kept in the web site reference library.