B-CARS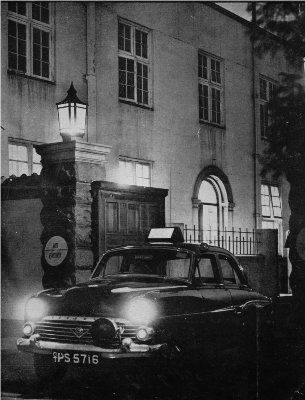 An early Vauxhall Police Car
Photo from "Out Post"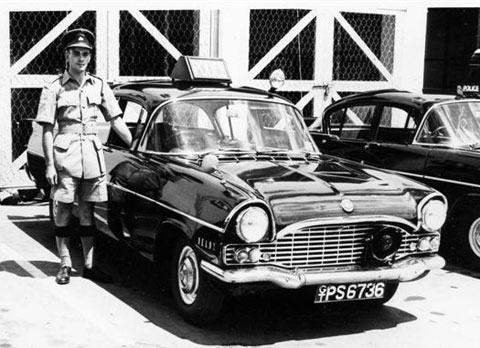 The Later Vauxhall Velox
Photo supplied by Mike Hogarth
(in the photo) with these comments:
This is the Vauxhall Velox PA Series. I (5639 Cst Mike Hogarth) am standing next to it. It was taken just after the monthly transport inspection hence its very polished state. I later went on to drive the more powerful 2.3 litre Velox which I recall was grey. I also drove a Humber Hawk which was on trial from Rootes Group and then the Austin Westminsters, both A99 and A110. I was attached to Information Room 'B Cars' twice in the early 60's and also Traffic Accident Section where for some time we had a Chevrolet Bel Air van as the accident vehicle.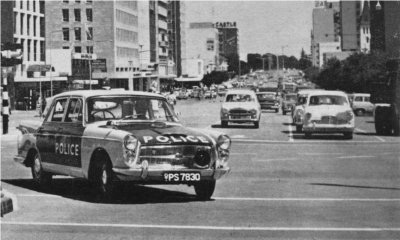 Austin Westminster
"B Car"
Traffic Police Car
Introduced about 1961
Photo from "Out Post"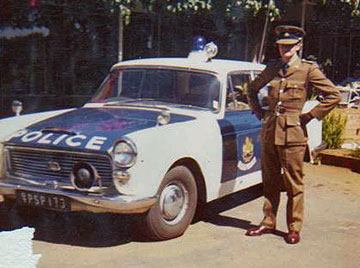 Austin Westminster "B Car"
Salisbury Central Information Room
(Exactly same car was used by Traffic)

Photograph date 1972

Features Winter Uniform

Photo supplied by Rob MacLean, B.S.A.P. 1969 - 1973.
Force Number 8244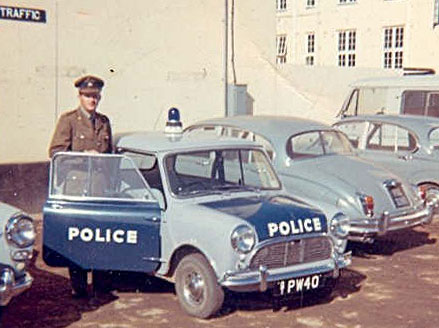 Mini 850 sedan
Standard issue for traffic duties

In service early 60's to +- 1975.
The standing joke with these cars was that, because they where so tiny, when you switched on the revolving light, the light stayed still and the car started to revolve .....
Manufactured by BMC, Umtali.

Photo from Peter Nortje (6303)
(Standing next to the Mini)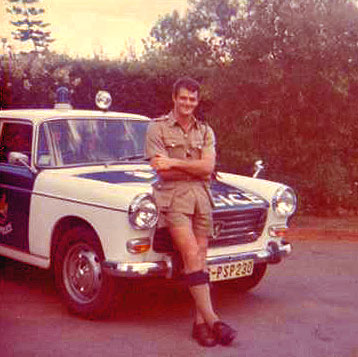 Peugeot 404 "B Car"
Salisbury Central Information Room
(Exactly same car was used by Traffic)

Photograph date 1972

Features Summer Uniform

Photo supplied by Rob MacLean
OTHER VEHICLES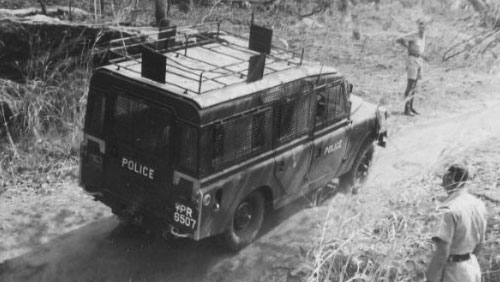 The Landrover", Series 2, 2A or 3.
Everyday Traffic Vehicle, Rural Use
Early ones painted dark green, later pale blue grey.

Photo by Will Cornell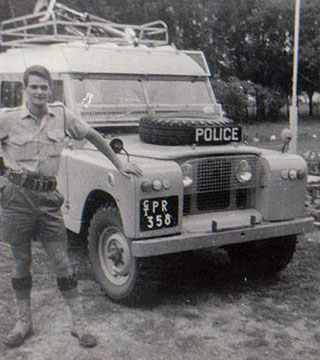 The Land Rover with the High Canopy

Chiota TTL Xmas Eve 1969

Photo supplied by and featuring Rob MacLean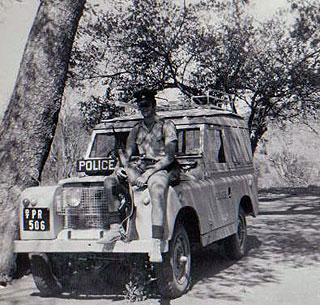 This SWB Land Rover was our patrol vehicle when I was at Nyamapanda. The pic was taken at the beacon on the Mazoe River where it flowed out of Rhodesia and into Mazambique and marked the border between us (at Nyamapanda) and B.S.A.P. Mount Darwin.

Another Photo from Rob MacLean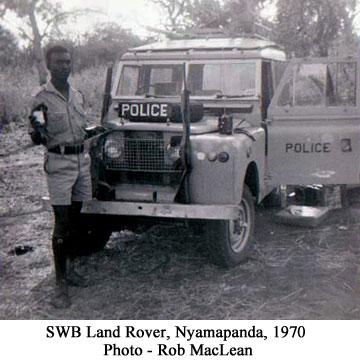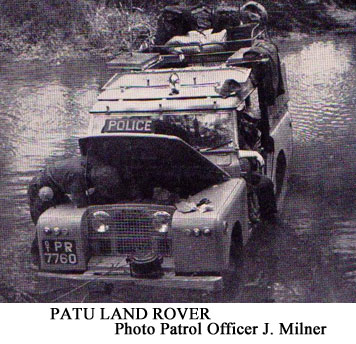 We also used S/W base Landy's for our Valley patrols when I was at Sipolilo. This a pic. of one deep in the mud in the Dande River (Mashumbi Pools) being pulled out by an Army truck!

Another Photo from Rob MacLean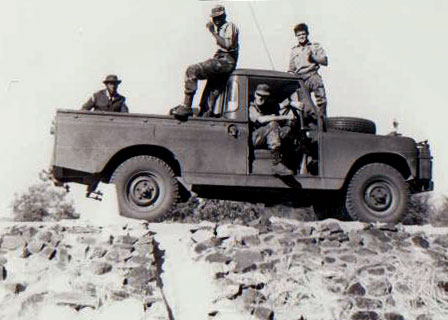 Land Rover carrying a PATU stick:
Driver was Steve Moore-Stevens (Reserve Inspector, Marandellas), the tracker, sitting in the back was Charlie, the Constable was Cst. Dzobo , standing is Chris Aitkin - same Depot Squad (4 of '69) and stationed at Mrewa at the time of this patrol. There was one other in the patrol (unsighted in this photo), Hugh Maynard a reserve S/O in Marandellas and ex Congo mercenary - all great fellows.

Notes and Photo from Rob MacLean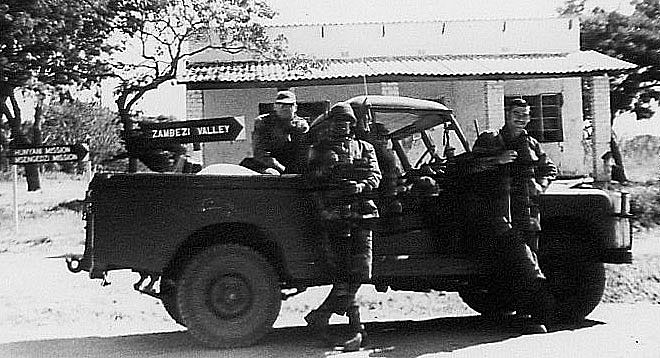 Landrover en route to Mushumbi pools, Gutsa & Hoya. Constable is Cst Asman of Gwelo Rural. On the back of vehicle is George Scully a reservist and brother to "Bones" Scully an Inspector in the BSAP. The handsome fellow lounging on the engine is unknown.

Web master's Note: Photo included to show typical rural road junction in Rhodesia.

Photo supplied by Kelly Bruce (8178)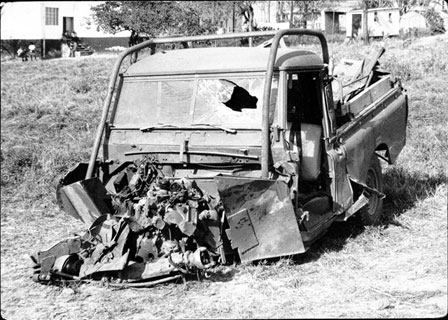 The effect of a land mine on a Land Rover.

Photo from Rob MacLean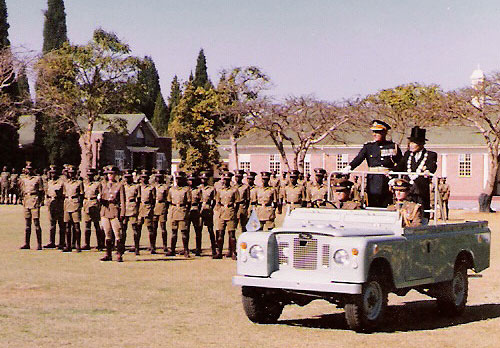 Series 111 Landrover with
Clifford DuPont reviewing a parade at Morris Depot.
Date unknown
Photo by Butch WALKER (BSAP 7392)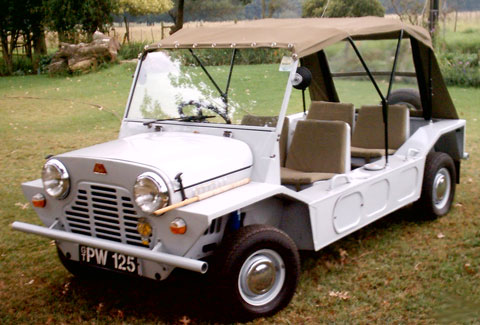 The Mini Moke was very much for rural Use
Manufactured in Umtali
Photo by Chris Baragwanath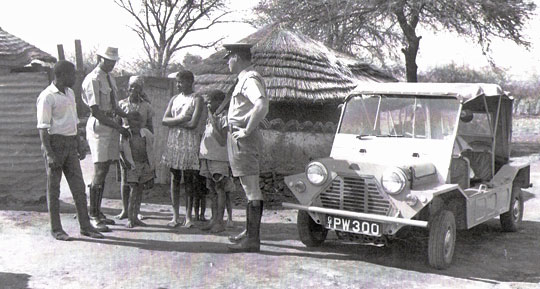 The Mini Moke in a typical village in
peaceful times
Photo features Butch Walker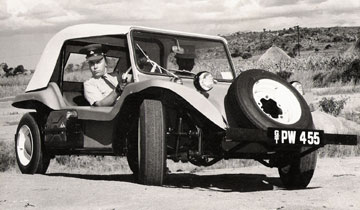 The Beach Buggy
Publicity Shot
Photo supplied by Butch Walker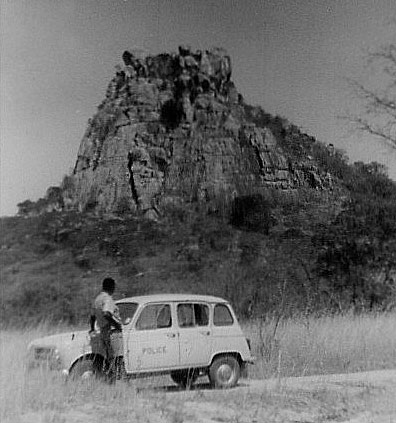 Renault 4 sedan:

General duties and duty officers car. (used extensively at night to check for "Vans" that where parked in quiet corners with the occupant fast asleep), or to "eventually" get the Duty Officer to a scene. Politely known as a "Noddy Car".

This photo taken in the Lalapanzi rural area near "Domboromari" (the Stone of God).
Cst Tamsanqua in front.

(Built in Salisbury by Willowvale Motor Industries)

Photo supplied by Kelly Bruce (8178)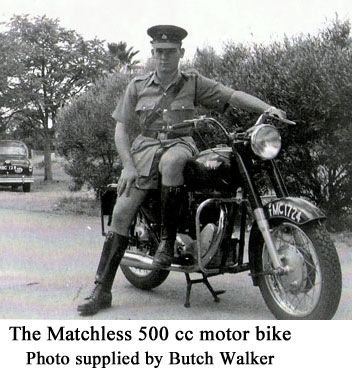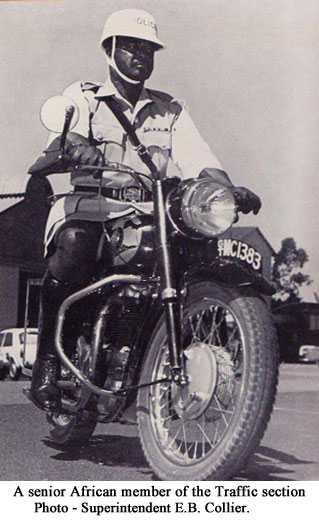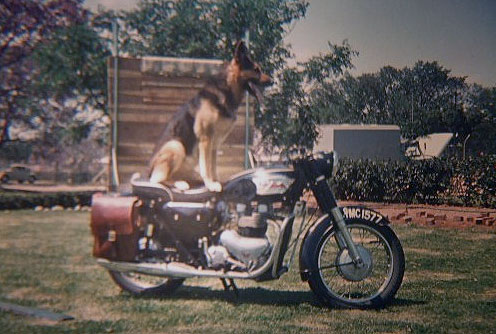 Another shot of a Matchless, this time with Police Dog 99 Shane on the back in training for a police display in Bulawayo in 1966

Photo by Mike Moss, BSAP 7023
Mike Hogarth: Whilst in Salisbury Enquiry Section I had a Honda Dream 350cc (?). It was the only one. At that time there were various makes of motor bikes on trial as the Matchless and BSA became unavailable after UDI. There was a Bridgestone and a Ducati as well as the Yamaha which was eventually introduced.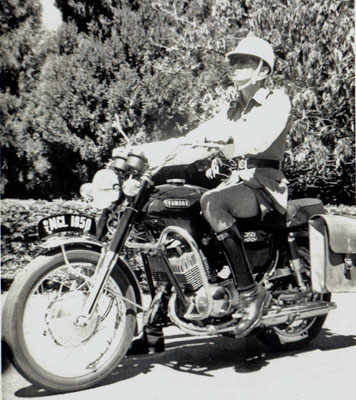 B.S.A.P. Yamaha 350 cc

Photo from Hennie Pretorius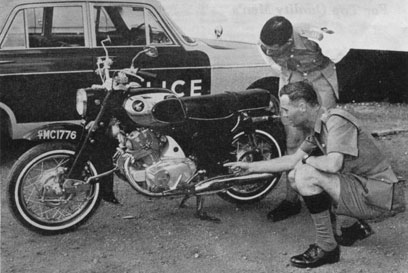 The Honda Motor Cycle
Photo from "Out Post"
HIGH SPEED PURSUIT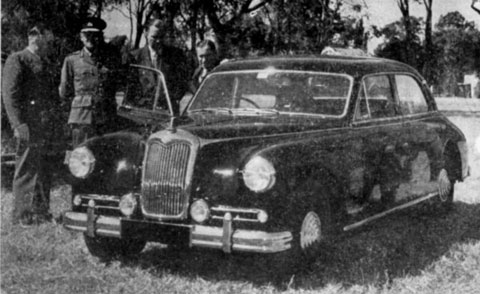 The Riley Pathfinder
Used circa 1955
Photo from "Out Post"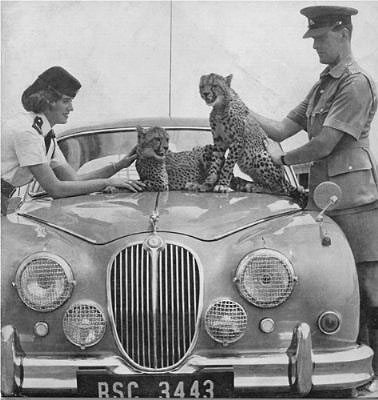 The Jaguar police car
Photo from "Out Post"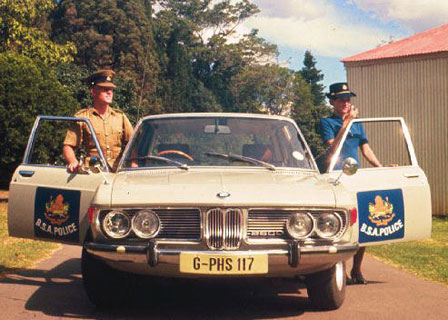 BMW 3000S "Highway Patrol":

These where based in Salisbury and where certainly on the road in the mid to late 70's extensively modified by CMED. They superseded the Jaguars.

Photo from Rob MacLean
SPECIALIST VEHICLES
Leopard Security Vehicle, manufactured from 1975 by Willowvale Motor Industries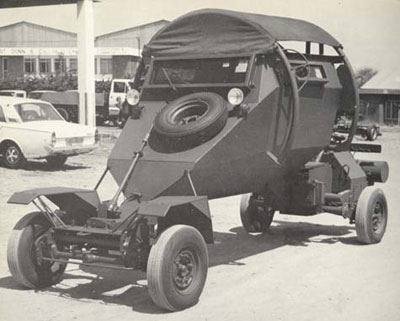 This highly unconventional vehicle, the Leopard, had the bare essentials to make a working motor vehicle with the necessary protection against a mine blast.

Indicative of the land-mine problem was that for the year 1979, 1,178 mines (3.3 per day) are recorded as having been detonated and another 911 (2.5 per day) having being recovered, a total of over 2,000 for the year.

Intended only as a mine resisting vehicle, the Leopard was never an armoured vehicle, though the body did offer some protection to the occupants against some types of small arms fire.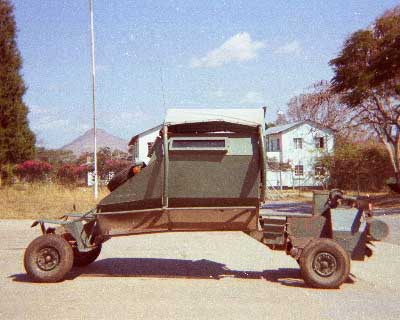 Seen clearly in this picture is a later refinement to the Leopard, the addition of bullet tumbling screens, on the lower hull, as an anti ambush measure and to help improve the ballistic protection of the blast resisting hull.

Leopard photo and details from Chris Baragwanth's web site where a detailed report can be found.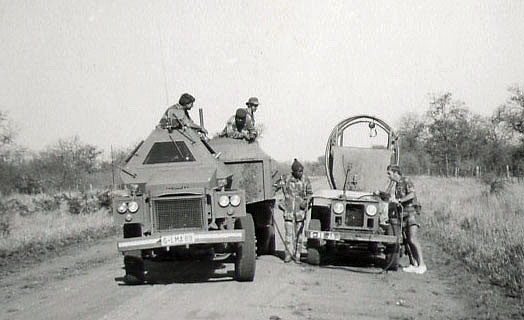 Crocodile (on left) & Rhino, taken on the road to Battlefields Ranch (aptly named) in the Mateki Hills farming area south of Rutenga & Nuanetsi.
The Rhino had overheated & one "Brightlight" is adding water to the radiator from the Crocodile supply tank.
The Rhinos were workshop conversions of older Land Rovers and were prone to overheating for this reason. However, the main reason for overheating was that the Rhino was only to be operated in low range. This was to cope with carrying the much heavier blast resistant passenger capsule. The high centre of gravity and the instability at anything approaching a reasonable speed did not help.
The Crocodile is in its personnel carrying version with glacis armour to the load carry area to protect passengers.
Photo and text supplied by Kelly Bruce. Later our entry corrected from information provided by Chris Baragwanath.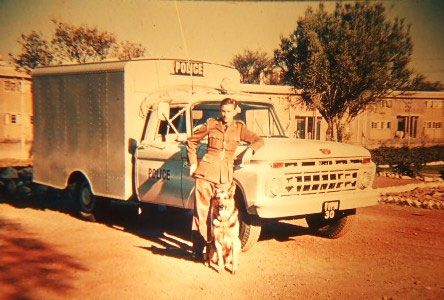 Brand New Dog Section Ford truck for carrying several dogs at a time. Taken at BSAP Dog Section Bulawayo early 1966.

Photo featuring and supplied by Mike Moss, BSAP 7023
NOTES by Chris D Baragwanath
Vehicles that are missing from the BSAP listing, as far as my rusty brain can remember are:

Bedford 1.5 ton "Black Maria": late 50's through to early 60's. Not the Bedford RL or RM.

Mazda B1600 - pickup - with canopy: The standard duties and general patrol vehicle for urban policing in the 70's. When modified, also used extensively for convoy protection duties.
(Built in Salisbury by Willowvale Motor Industries)

Crocodile MAP 3 tonner: The Police had a specific version of this vehicle during the war, one as a personnel carrier and the other as a resupply vehicle.
Built on a United Diesel Distributors of South Africa Nissan 3 tonne lorry chassis, I believe by Moreware industries in Salisbury.

The standard Nissan 3 tonne lorry: The donor vehicle for the croc, in its standard form, with the Nissan badge removed from the front grille and the words "Nissan" burnt off of the steering wheel centre. (These where painted either "CMED grey" or standard drab green) don't know why the went to all the effort of removing the brand name when the engine tappet cover had it cast into it in 2 inch high letters.

The urban anti riot Cougar: A specially modified, more "open" version of the standard Cougar MAP vehicle, not many where built to the best of my knowledge.
Built by Moreware industries on a series 2a Land Rover chassis.

Leykor Series 2A, 4 cyl, petrol, LWB Landrover: Soft skin in two formats, the stand open "bakkie" or pickup and then with the factory fitted full canopy commercially known as the "Safari Wagon"
Also built in Umtali. Usually CMED Grey.

Land Rover Pick-up: Fitted with Barbour Plates anti mine, Roll bar and some blast proofing, generally known as the "MAP Land Rover"

Lastly, may I ask you to put out an appeal on your web page for anyone who may have a reference or formulation for the "CMED Grey" vehicle paint? From my research, I have all the colour standards for the Rhodesian cammo scheme, but nothing on the CMED grey, despite the help of Dulux who where the largest supplier of paint at the time.
I suspect the grey is the "cammo grey" listed in British Standard Colours 381c. To help jog any memories the BSC 381c are listed on a number of websites and can send along a copy of them to any interested parties, if required.

Please give great credit to the CMED. They where responsible for the acquisition and maintenance of the majority of Govt vehicles and so played a critical role. A number of their members died while carrying out their normal duties during the war, especially when out in the sharp end going to recover or attend to broken down or damaged vehicles. (Truthfully, the CMED "grease monkeys" should have a Roll of Honour of their own.)