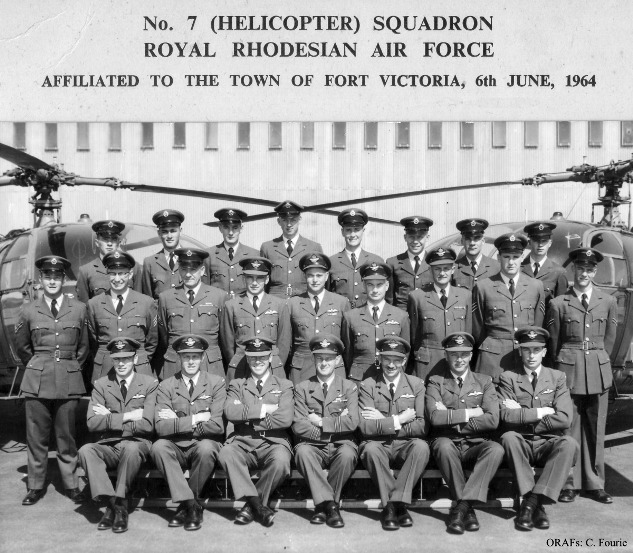 Back Row: S.A.C. JJ Munro, A.C. IR Grove, Jnr. Tech. EB Hobbs, Jnr.Tech. RG Evans, Cpl/Tech EG Flawn, S.A.C. RN Peetz, A.C. GB Hayter, A.C JWJ Newman
Middle Row: Cpl. AR Mickelwood, Snr. Tech. D. Panton, Chf. Tech. DB Webster, Plt. Off. DG Becks, Flt. Lt. RC Earp-Jones, Flt. Lt. P. Piggott, W.O.1 ET Powell, Sgt. PF Haddon, Cpl. RA Barham

Sitting: Flt.Lt. JF Barnes, Flt. Lt. GE Nettleton, Flt. Lt. LAS Taylor, Sqdn. Ldr. OD Penton AFC (OC), Flt. Lt. PD Cooke, Flt. Lt. MJ Smithdorff, Flt Lt AM Hofmeyr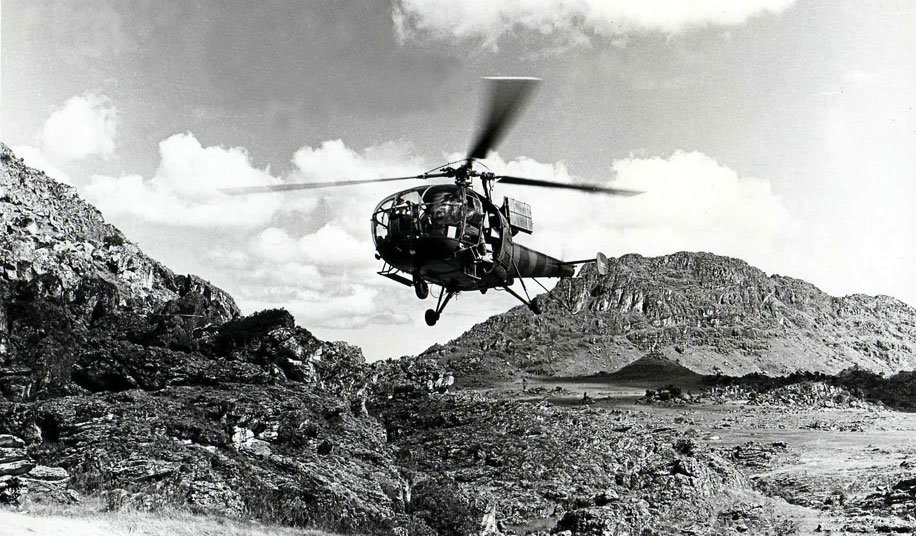 Photo (above)by P O'Reilly (found on the ORAF's web site)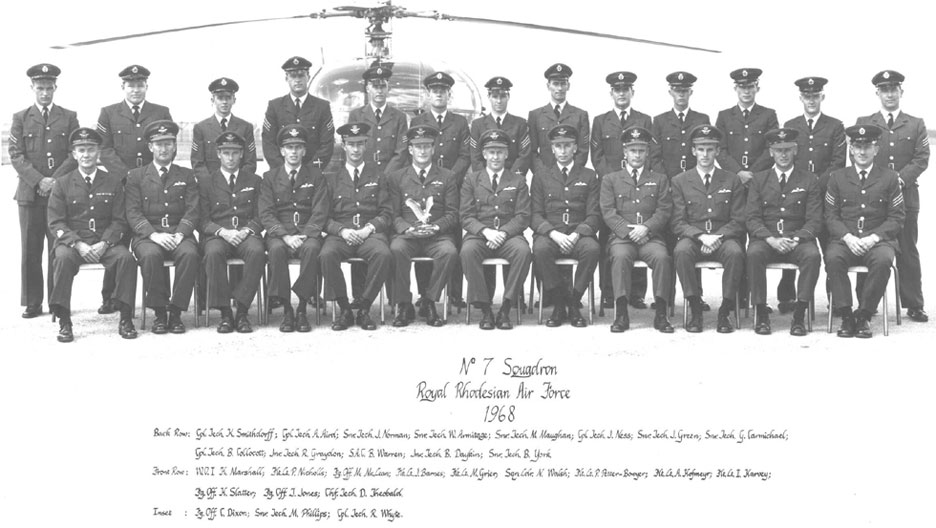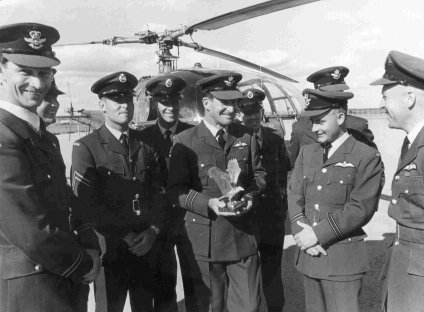 Above: 7 Sqn Jacklin Trophy Parade 1968.

Left: After the parade, a few proud members of the squadron.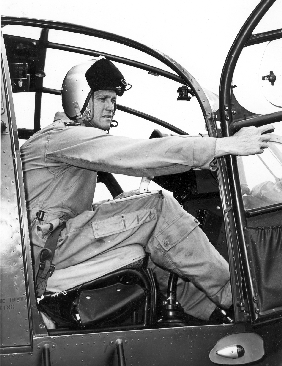 LEFT: Sqn Ldr Gordon Nettleton OC 7 Sqn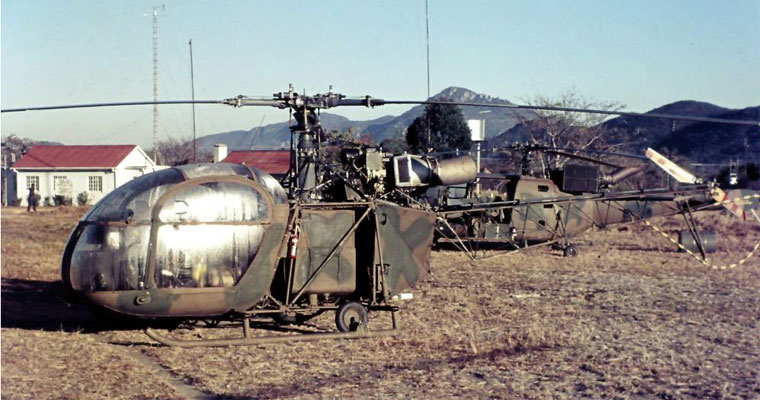 An Alouette II with an Alouette III behind, early days at Grand Reef.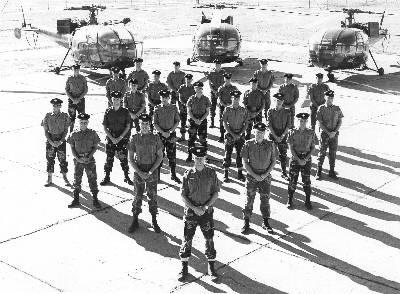 No 7 Squadron Annual Photograph 1971
(Photograph Rhodaf)

(Front Row) Sqn Ldr Mick Grier
(Second Row) George Wrigley, Harold Griffiths
(Third Row) Ian Harvey, Pete Bristow
(Fourth Row) Vic Cook, John Annan, Ed Paintin, Brian Penton, Ken Law, Tudor Thomas
(Fifth Row) Clive Tapping, Dave Panton, Pat Jeffries
(Sixth Row)Roy Stewart, Rob Blumeris, Simon Maitland, Fin Marcussen, Terry Warner
(Back Row) Pete McColough,Brian Warren, Bob StQuinten, Bob Mackie

Note: Two crews deployed at the time of the photograph.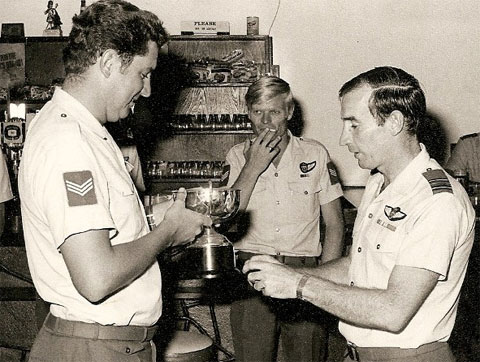 Pete McCabe receiving the 7 Squadron Gunners trophy from Eddy Wilkinson at the Sarum Sports club sometime in 1974. Mike Upton is in the background with his ever present cigarette.
Pete succesfully held the trophy until he left for Australia in 1983.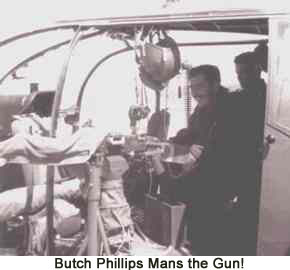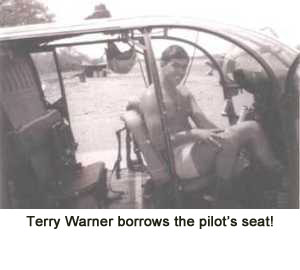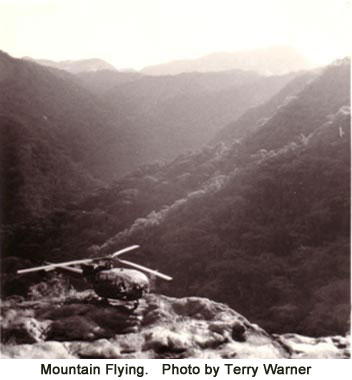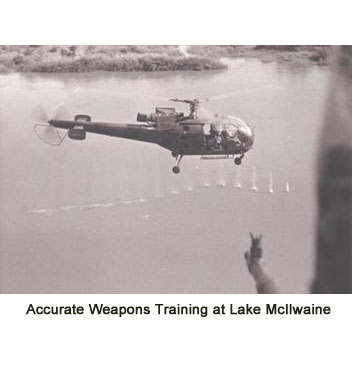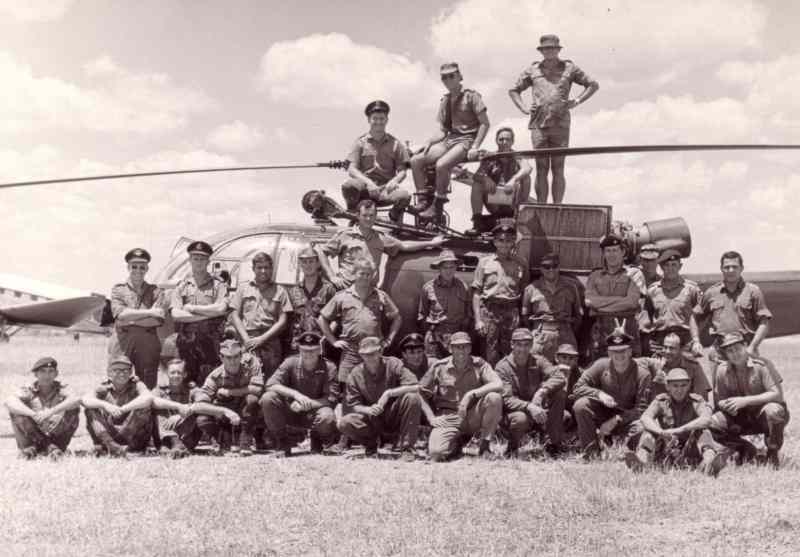 7 Squadron, ready to go.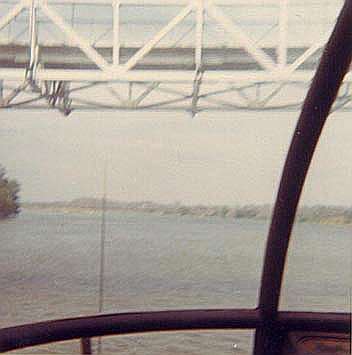 Chirundu bridge, as seen by Terry Warner.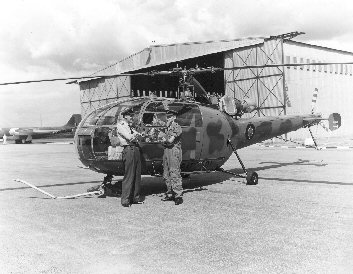 Dave Becks with Allouette R501 after the rebuild in 1964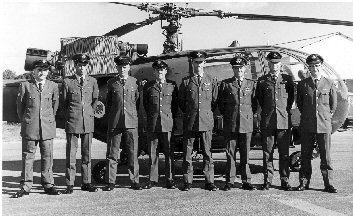 Gunners Wings Parade 1971
(Left to Right): Finn Cunningham, Rob Blumeris, Pat Jeffries, Bernie Way, Sqn Ldr Mick Grier, Gp Capt Frank Mussell, Air Lt Tudor Thomas, WOI Dave Panton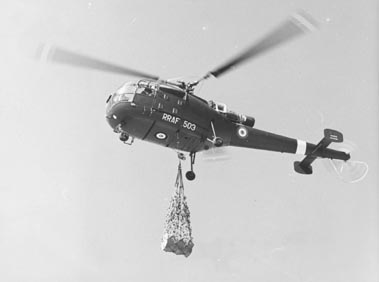 Allouette U/S Load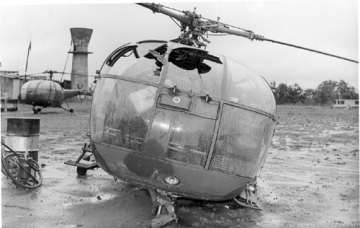 Barry Roberts' helicopter damaged at Chicoa when the engine cover was drawn into the rotor head.

Chicoa is now under Caborra Bassa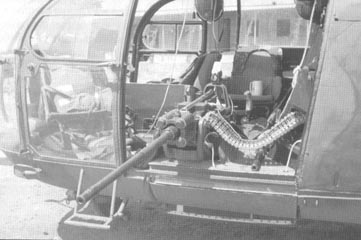 K Car with the 20mm fit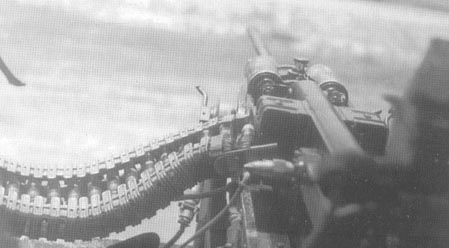 20mm close up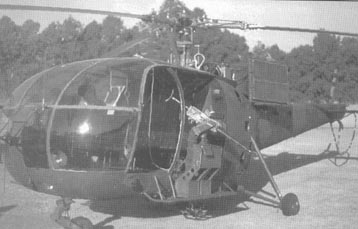 G Car with 7.62 mag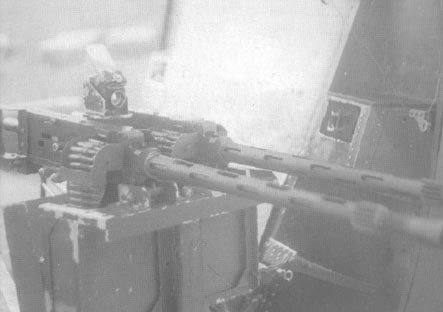 G-Car 303 Browning fit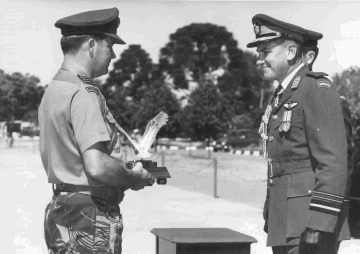 (1978): Sqn Ldr Griffiths receives the Jacklin Trophy on behalf of No.7 Squadron
from Air Marshall McLaren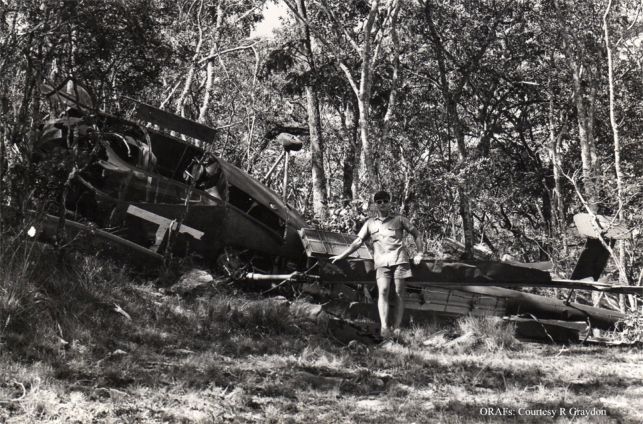 25th July 1976

Alouette 111 (R5076) (Cat 5)
Struck trees near Rutenga.
Occupants Flt. Lt. M. Borlace and Sgt R. (Butch) Graydon.
Trooping from Buffalo Range.

Photo shows Butch with the wreck.
Cat 5 = Aircraft beyond repair and scrapped.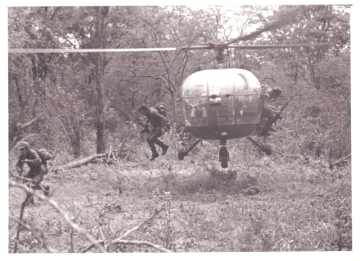 A Tight LZ (Photo T. Warner)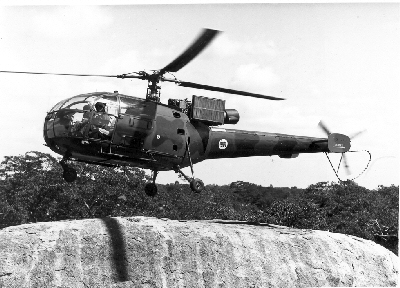 Allouette III in the hover

(Rhodesian Air Force livery)

(Photograph Rhodaf)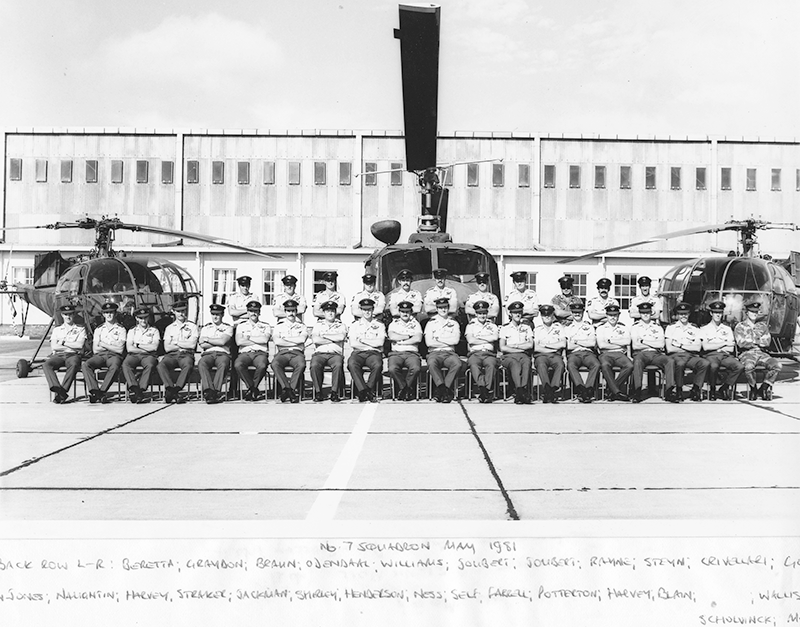 7 Sqn May 1981 (7 and 8 Sqn combined)
Fltr: Back Row: Beretta, Greydon, Braun, Odendaal, Williams, Joubert, Joubert, Rayne, Steyn, Crivellari, Goodman,
Front Row: Glynn-Jones, Naughtin, Harvey, Straker, Jackman, Shirley, Henderson, Ness, Meikle, Farrell, Potterton, Harvey, Blain, ? , Wallis, Schilvinck, McLure?