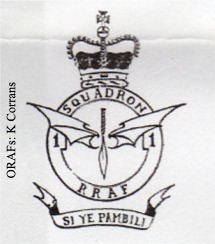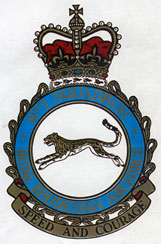 Early badge (left) used by 1 Squadron prior to approval of the Cheetah/Speed and Courage by the College of Heralds (right).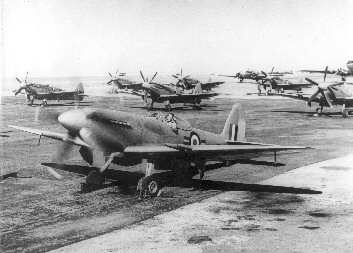 Seven Spitfire 22s of the SRAF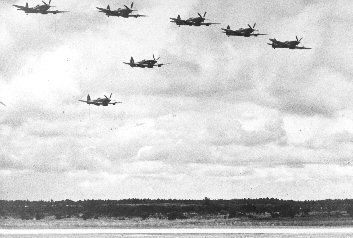 Seven Spitfire 22s in formation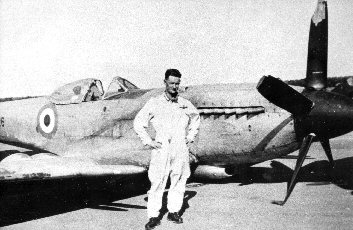 Lt.Brian Horney after a wheels up landing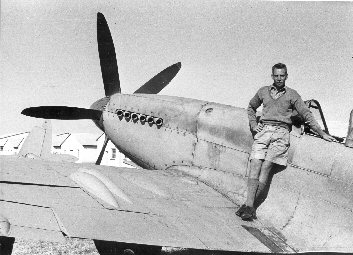 Don Annandale on a Spitfire
No 1 Squadron Southern Rhodesia Auxiliary Air Force 1950
Back: Lts D J Richards, D F Bellingan, J C K Campbell, J A Konschel, D M Whyte (Reg), D M Barbour, B T A Hone, O D Penton
Front: Lts D A Bradshaw, A J Douglas, Capt J Deall DSO DFC NFC,
Major H H C Holderness DSO DFC AFC (CO), Capt A N Brooks, Capt D McGibbon DFC, Lt J Malloch.
Absent was Lt CW Baillie
Photo supplied by Rob Thurman via ORAFs.
No 1 SQUADRON, 1957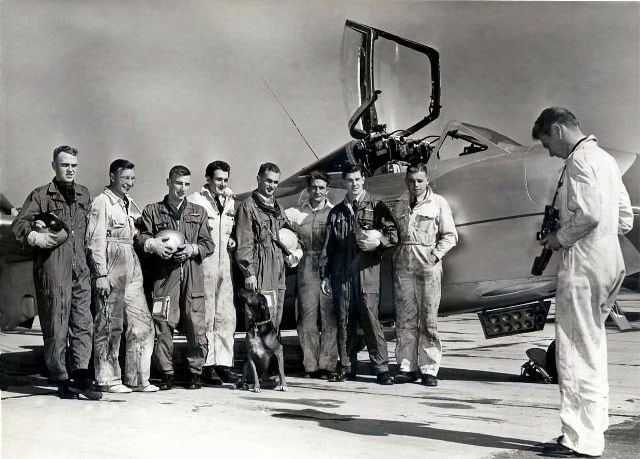 Taken for Publicity in 1957, RRAF: GROUP OF PILOTS AND TECHS
FLTR: Pat Meadows-Taylor, Dave Panton, Eddy Wilkinson, Ticky Hawthorne, Chris Dams, Syd Watson, Gerry Dunn, Charlie Davidson
Taking photo Tony Attwell
Photo supplied by Dave Panton via ORAFs.
No 1 SQUADRON, KHORMAKSAR, ADEN, 1958

Click on the photograph for a closeup and names.
Eddie Wilkinson & Jimmy Pringle, ADEN, 1958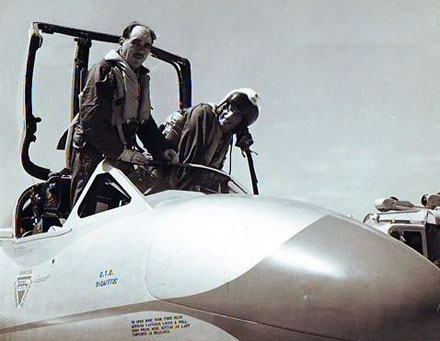 Eddy Wilkinson Writes:
Herewith a picture taken of me with Jimmy Pringle after a flight over the Arabian Peninsula in February 1958.

Jimmy was our Squadron Technical Officer - and a very good one. It was he, and his technicians, who through hard and dedicated work, kept our aircraft at such a high standard of serviceability.

The RAF could not believe our serviceability rate.

Our thanks to Eddy Norris (ORAFS) for this photo and text.

COLIN GRAVES AND THE PRESIDENT OF PORTUGAL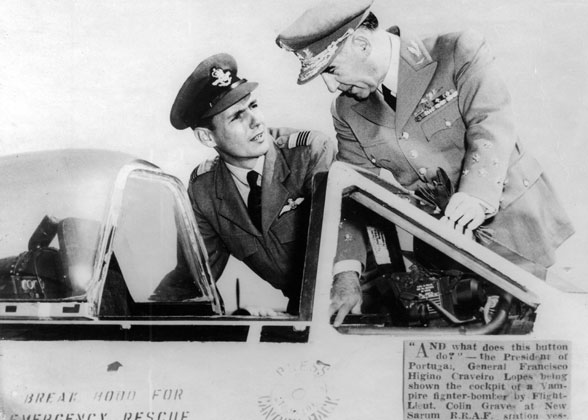 Newspaper photo circa 1959
Photograph supplied by Colin Graves' great nephew Ryan Wibberley
FORMATION AEROBATIC TEAM, C 1960/61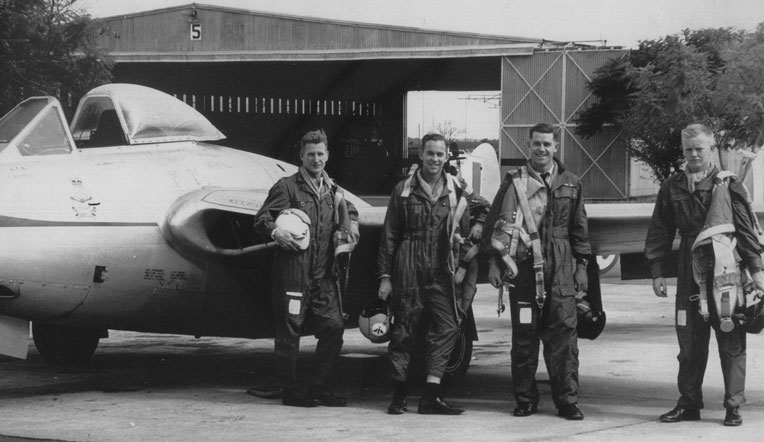 (Above) FORMATION AEROBATIC TEAM, C 1960/61
FLTR: Norman Walsh, Mike Reynolds, Varke Varkevisser, Keith Corrans
Photograph supplied by Keith Corrans
PRE-DEPLOYMENT TO ADEN, 1959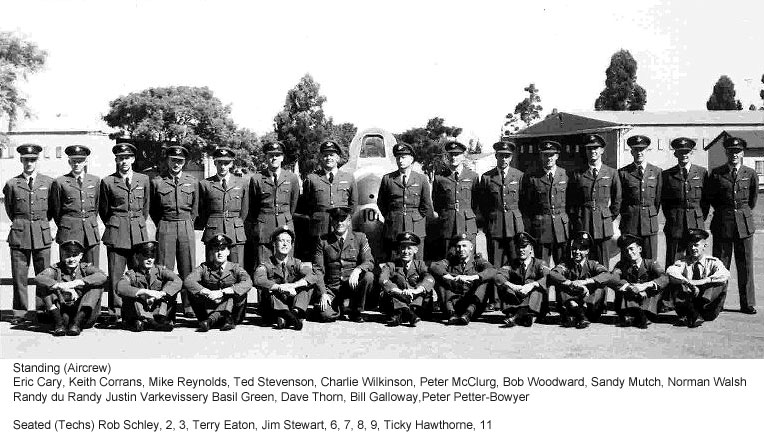 1959 Deployment of RRAF Vamps to Aden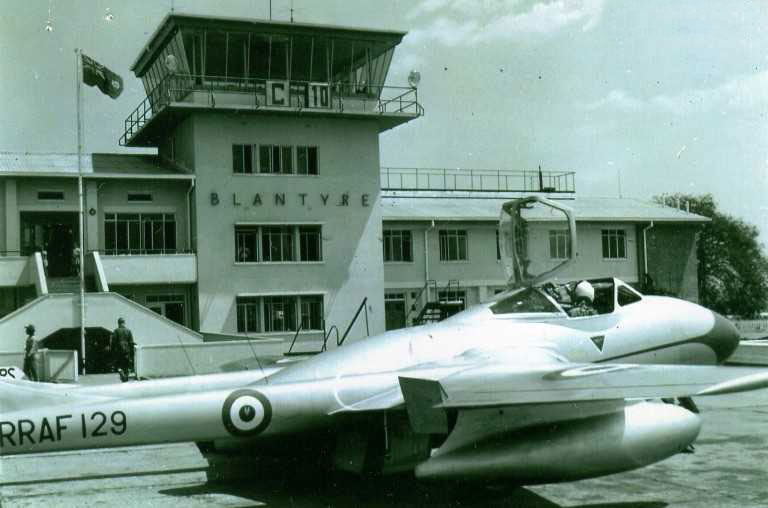 (Above) 1959 Deployment of RRAF Vamps to Aden
"These are the "Pics" of the 1959 Deployment of RRAF Vamps to Aden (2nd Deployment). Photo above shows the Vampire T11 at Blantyre. The photo below shows the line up of 8 Vampire FB 9s and one T11 at Mogadishu (RAF Khormaksar) against the backdrop of Sham-sham".
I took the photos with my trusty Voeigtlander Camera."
Aden Detachment Photographs supplied by Keith Corrans (via ORAFs)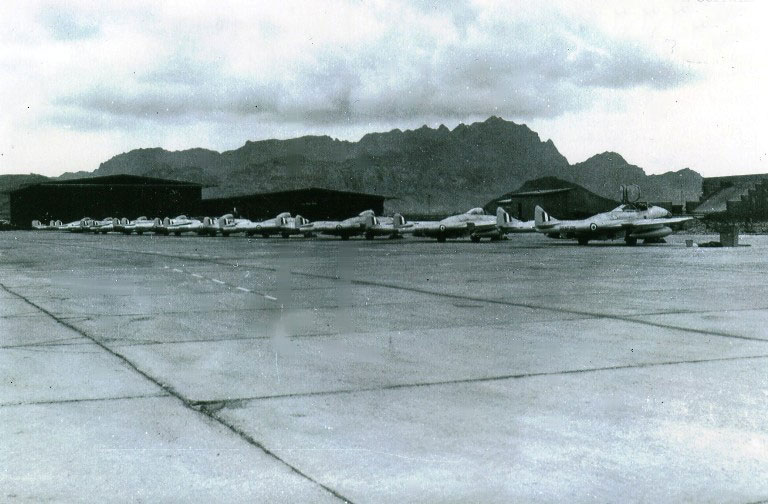 EARLY HUNTER DAYS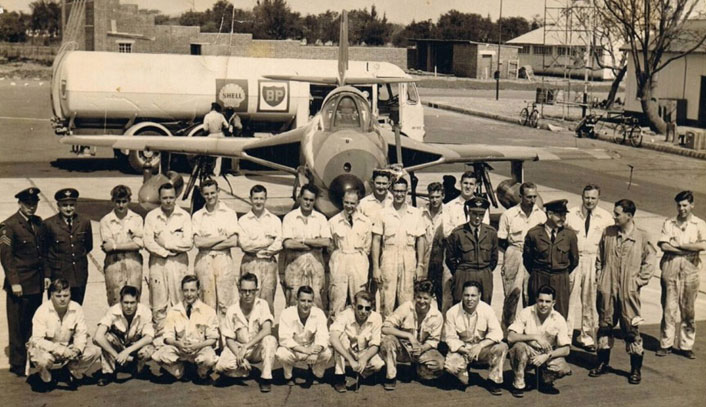 (Above)
Standing: 1 Spike Owens, 2 WO1 Taff LLoyd (he of the white Sunbeam Alpine Sports-car at T'hill),
3 Dave Bowman(?), 6 Pete Micklewood, 8 "Van" van der Merwe, Engines.
Crouching: 1 Matt Caton, 4 Colin Bedford, 6 Ken de Goveia, 7 Norman Farrell.
The man in RAF flying boots: as far as we know they were only issued to those who attended the RAF Conversion at Chivenor.
Is anyone able to put a name to him, or to the others whose names are not known?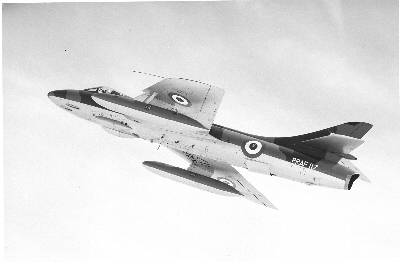 Hawker Hunter FGA 9 in Royal Rhodesian Air Force livery. (Photograph RRAF)




Hunter Formation Break

Photo by Owen Potterton, Photo Section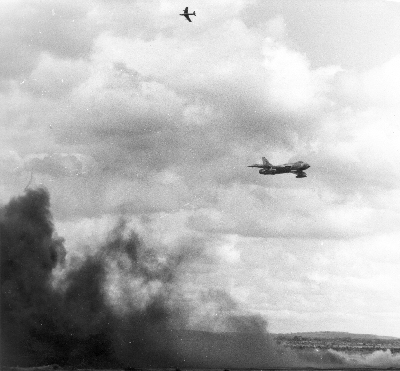 A pair of Hunters carrying out a strike
(Photograph RRAF)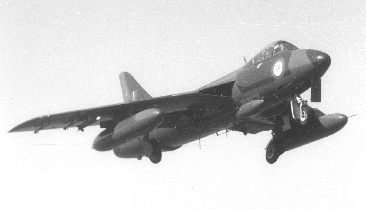 Hunter Landing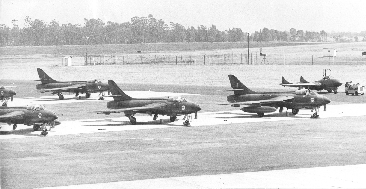 4 Hunters at Thornhill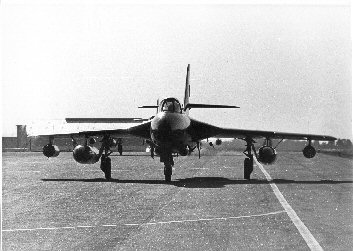 Hunter FGA9 with drops and rocket pods
12 HUNTER DIAMOND FORMATION 1963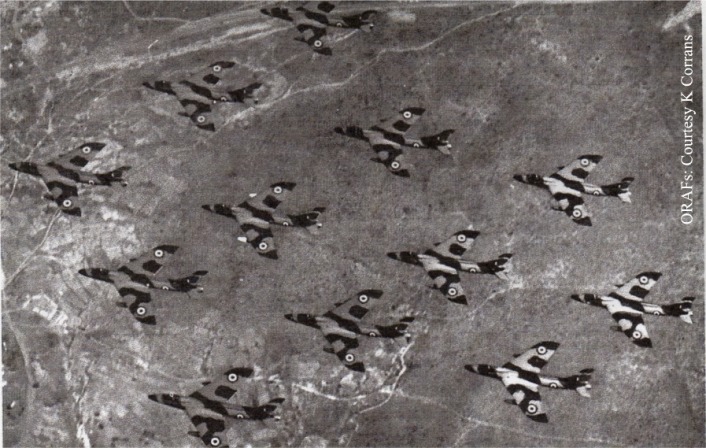 The one and only time as I recall we flew all 12 original Hunter FGA 9s in one formation, and it was 16th August 1963.
PILOTS OF THE 12 HUNTER FORMATION 1963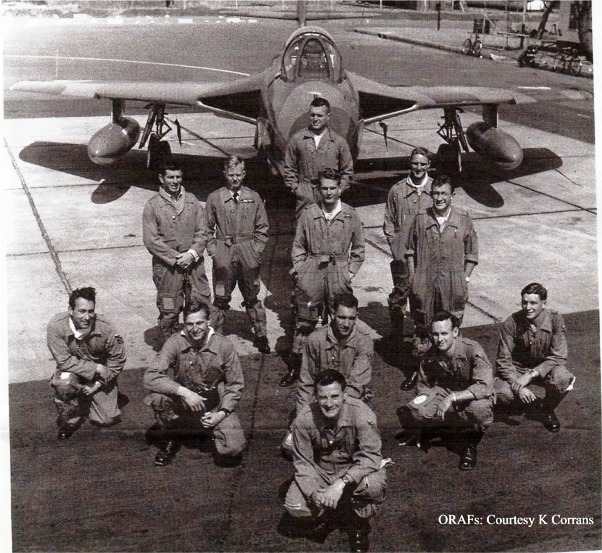 Doug Bebington, Keith Corrans, Rich Brand, Cyril White,
Rob Gaunt, Frank Gate-Smith, Mike Russell, Harold Griffiths,
George Wrigley, Gordon Wright, SOS Nederlof, Mike Saunders (OC 1 Squadron)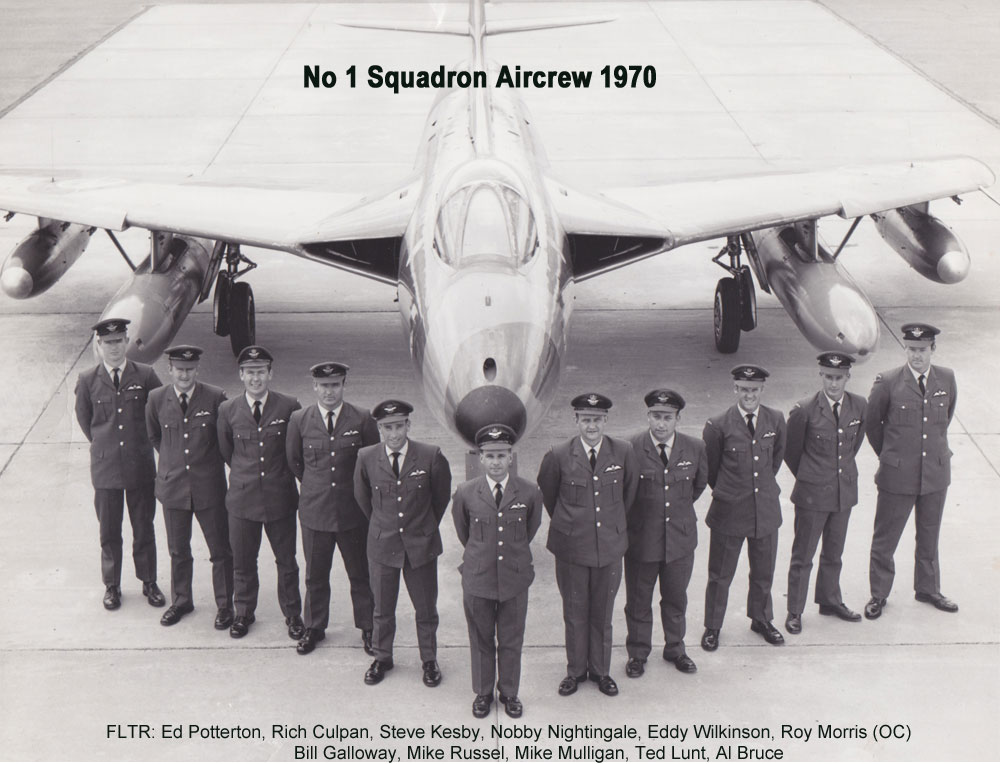 Diamond 9 formation circa 1971.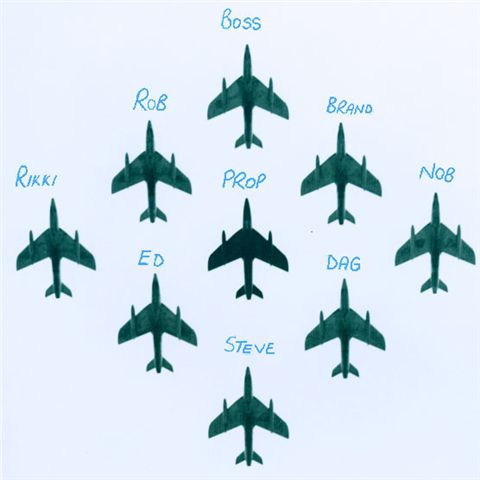 The Diamond 9 Pilots: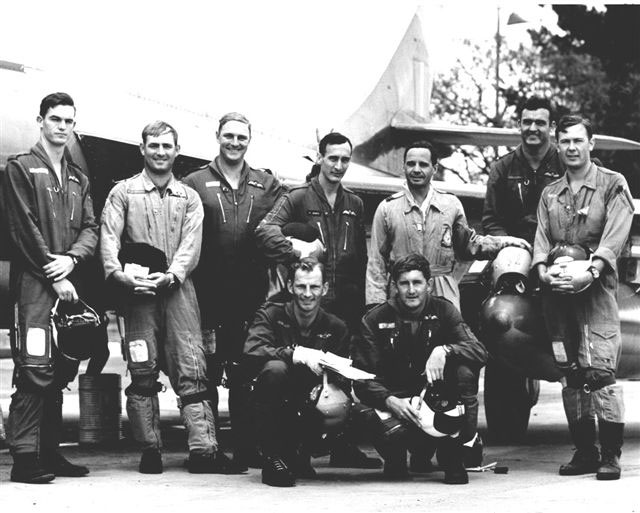 LTR (Rear): Ed Potterton, Rob McGregor, Rich Brand, Dag Jones, Roy Morris (OC), Nobby Nightingale, Steve Kesby,
(Front, crouching): Prop Geldenhuys, Rich Culpan.
Photos of this formation supplied by Prop Geldenhuys.
No 1 Sqn Colours Parade 21st September 1973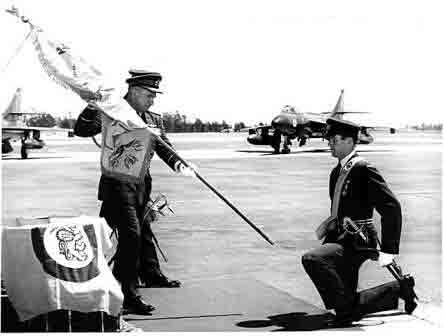 On the 21st September 1973, No. 1 Squadron was presented with its standard or colours depicting No 237 (Rhodesia) Squadron Battle Honours. It was the first Rhodesian Air Force Squadron to be presented with a standard.
Steve Murray is seen here, receiving the colours.
No 1 Sqn Colours Parade, March Past of the Colours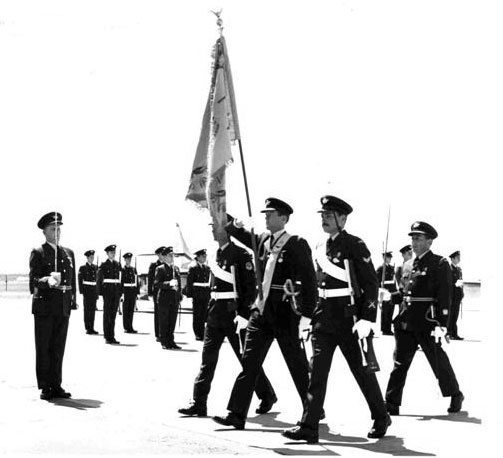 The Standard Party comprised: Ensign (Standard Bearer) Steve Murray, with escorts Geoff Dartnall, Cliff Tyson and Charles Gibbon.
No 1 Sqn Previous Commanders at the Colours Parade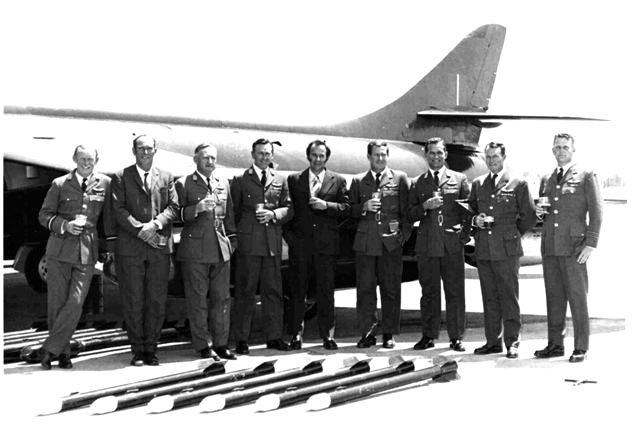 All OCs 1 Squadron up to and including Rob Gaunt.
Left to right: Dickie Bradshaw, Charles Paxton, Sandy Mutch, John Mussell, Mike Saunders, Norman Walsh, Chris Dams, Ted Brent and Rob Gaunt.

Our thanks to Ellie Gaunt who supplied these photos of the parade through ORAFs.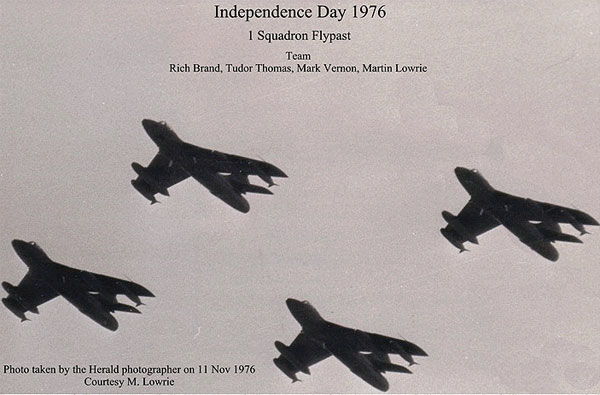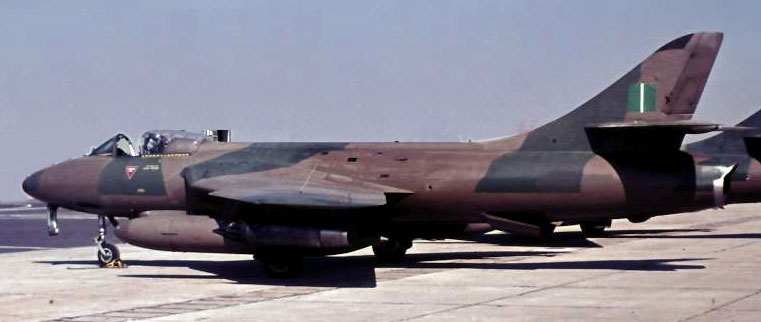 Hunter FGA9 showing livery used latter half of the 1970's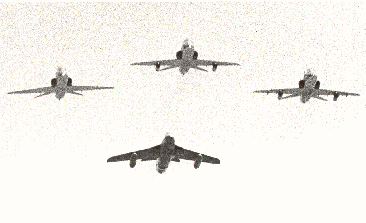 One Hunter with 3 Hawks, 1982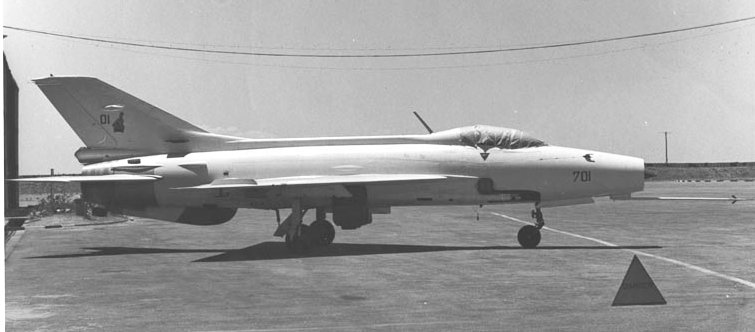 MIG21 of the ZIMBABWE AIR FORCE