Rank and Rank Structure of the Rhodesian Air Force

NON COMMISSIONED RANKS:
Aircraftsman (AC)
(No badge of rank)

Leading Aircraftsman (LAC)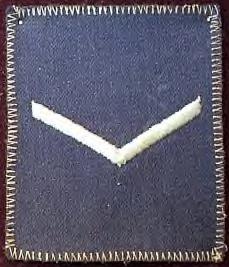 Senior Aircraftsman (SAC)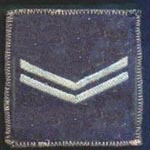 Corporal (Cpl)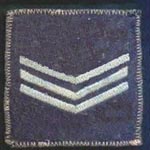 Sergeant (Sgt)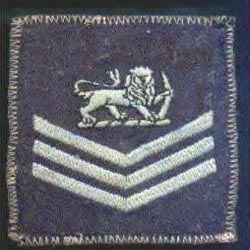 Flight Sergeant (FSgt)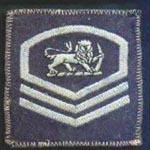 Master Sergeant (MSgt)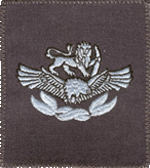 Master Technician (MT)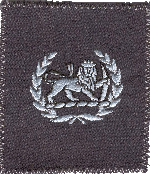 Warrant Officer 2nd Class (WO2)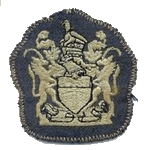 Warrant Officer 1stClass (WO1)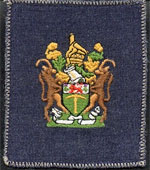 Station Warrant Officer
Explanation of the Chevrons
By Rusty Theobald
In the Rhodesian Air Force the chevrons, which was a follow on from the Royal Air Force, showed the command rank or technical skill of the wearer.

Chevrons pointing down indicated 'command ranks':
Two - Corporal.
Three - Sergeant.
Three with a crown at the top - Flight Sergeant.

Chevrons pointing up showed that the wearer was a technician and had passed his fitter's course:
One - Junior Technician.
Two - Corporal Technician - Minimum of 5 years in the trade.
Three - Senior Technician - Minimum of 10 years in the trade.
Three with a crown at the apex - Chief Technician - Minimum of 15 years in the trade.

In 1970's the Rhodesian Air force reduced these minimum years in the trade. The object was to gain a younger air force with more pay without
requesting a pay rise from the government.

When an S.A.C. passed his fitter's course and became a Junior Technician he was just another worker with more technical ability. So after a very short time, dependent on his leadership he was given the rank of Corporal. Now he had command authority and became the leader of a servicing team.

I was made corporal in 1954 (age 21) after one month as a Jnr. Tech. I was put in charge of a team carrying out modifications and repairs on
Gloster Meteors and Hawker Hunters Mk IV's and VI's. The Hunters issued to the R.R.A.F. were Mk VI's converted to Mk IX's.

When I joined the RRAF I had four years experience on Hunters but forgot to mention it at the time.

Being promoted to Corporal was a big step up the ladder, it gave us privileges such as access to the Corporals Club (A room in the
N.A.A.F.I. with it's own bar and snooker table), not having to queue for meals, our own dining section away from the mob and last but not least, more pay.

We were allowed to use all the other facilities if we wanted to stay with our friends.

In the Rhodesian Air Force in 1966 Thornhill suddenly promoted their technicians to command ranks so that Senior Technicians became Flight Sergeants and were suddenly No.2 to the W.O.

This did not go down well at all because in those days it took 15 years service before one could sit the Chiefy exams and now there were service men of ten years with more authority. A thorough Thornhill blunder.

We at New Sarum were convinced it was only done to give them more pay. You might say it was sour grapes, but whatever it was it sure left a bitter taste.

Prior to these ranks, technical mechanics and command ranks wore the same badges:
No badges showed that the member was an 'A.C. Recruit' (Aircraftsman Recruit) an Appie doing his square-bashing.
'A.C. II' (A.C. Second Class) showed that he was receiving training.
'A.C. I' (A.C. First Class) showed that he had passed his initial course.
A two-bladed propeller indicated an L.A.C. (Leading Aircraftsman and, if technical, still a mechanic).
A three bladed propeller showed an S.A.C. (Senior Aircraftsman and, if technical, still a mechanic).

In the 1970's the Chief Technician and Flight Sergeant ranks were changed to Master Sergeant. The chevrons now pointed down, became smaller and the two arms of the top chevron were linked together in a curve over a 'Lion and Tusk' symbol.

When command and technical members wore the same rank the command rank was senior, unless the matter in hand was technical.
OTHER BADGES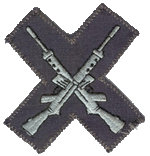 Marksman Badge
Air Force Physical Training Instructor Badge (PTI)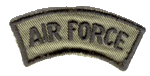 Rhodesian Air Force Uniform Shoulder Flash IS Dress

Pilots Wings
Royal Rhodesian Air Force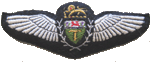 Pilots Wings
Rhodesian Air Force


Half Wing
Navigator


Half Wing
other Air Crew
Belt Buckle No. 2 Dress