At the end of WWII the Royal Air Force retained its Rhodesian Training Group at Thornhill, Gwelo. The airfield remained an active Royal Air Force base flying Harvards until it's closure in 1955 and take over by the Royal Rhodesian Air Force. (Photos and Anecdotes...).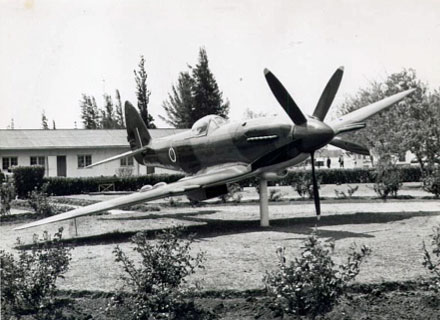 In order to reduce the congestion at New Sarum the piston engined aircraft (No 4 Sqn) were moved to Thornhill. There was no hard runway suitable for jet aircraft operations.

During 1956 and 1957 the Rhodesian government constructed a tarmac runway, taxiways and concrete hard standing areas as well as a new control tower at Thornhill. Once the new radar facility had been commissioned Thornhill was ready for jet training to commence.

No 9SSU was the first course to undergo Basic Flying School (BFS) at Thornhill in 1956. They were moved to New Sarum to do their Advanced Flying School (AFS)and Operational Conversion Unit (OCU).

No 10 SSU was the first course to do all their training at Thornhill in 1957-1958.
| | |
| --- | --- |
| Sqn Ldr Doug Whyte | Nov 1955 - June 1957 |
| Wg Cdr A. O. G. Wilson | 10 June 1957 - 22 June 1959 |
| Gp Capt J. H. Deall, DSO, DFC | 23 June 1959 - 31 May 1961 |
| Gp Capt J. P. Moss | 1 June 1961 - 26 November 1961 |
| Gp Capt R. A. J. Barber, DFC | 27 Nov 1961 - 27 Dec 1963 |
| Gp Capt. D. M. Whyte, OBE | 28 December 1963 - 1 June 1966 |
| Gp Capt C. H. Paxton, AFC | 2 June 1966 - 11 January 1968 |
| Gp Capt F. W. Mussell | 12 January 1968 - 26 April 1970 |
| Gp Capt D. A. Bradshaw | 27 April 1970 - 6 February 1972 |
| Gp Capt K. A. S. Edwards | 7 February 1972 - 1 January 1975 |
| Gp Capt D. W. MacLaughlin | 2 January 1975 - 31 March 1977 |
| Gp Capt F. D. Janeke | 1 April 1977 - 7 Jan 1979 |
| Gp Capt G.L. Pink | 8 Jan 1979 - 30 April 1980 |
| Gp Capt H Griffith DCD. | 1 May 1980 - 31 Oct 1981 |
| Gp Capt D.A.G. Jones DCD | 1 Nov 1981 - |