SSU and Auxiliary Pilot Training
At the outset instructors of the embryonic SRAF ran out-of-working-hours pilot training courses for interested young civilians to create a national reserve of auxiliary military pilots. During the second (Aux) course, the Southern Rhodesian Government approved the introduction of the Short Service Unit pilot training scheme to build up regular pilot numbers. As it happened, 2 Aux qualified for wings shortly before 1 SSU - so they were presented with wings at the same time. Hence the Aux pilots still wearing the somewhat smarter Army Reservist No 1 dress uniforms whilst 1 SSU wore regular SRAF No 1 gabardine.

There was no Number 12 (missed year) or 13 (superstition) course. Because so many successful SSU pilots failed to opt for medium service commissions the Federal Government, recognising the high cost of training, insisted on the pilot training scheme changing to the PTC system. This consisted of joining up signed up for A 10 year medium service which began with 2 years officer and pilot training. 14 PTC was the first of these courses.

Dates for the pilot training courses of SRAF Auxiliary Force, sometimes referred to as SRAAF, were as follows:
1 Course SR aux AF commenced July 1949 - 27 Sept 1951 wings
2 Course SR aux AF commenced July 1950 - wings received with 1SSU (1 year course) on 21 Aug 1952.
1 SSU of SRAF regular force commenced training 1 September 1951 when 2 Course SR aux AF was half way through its part-time training.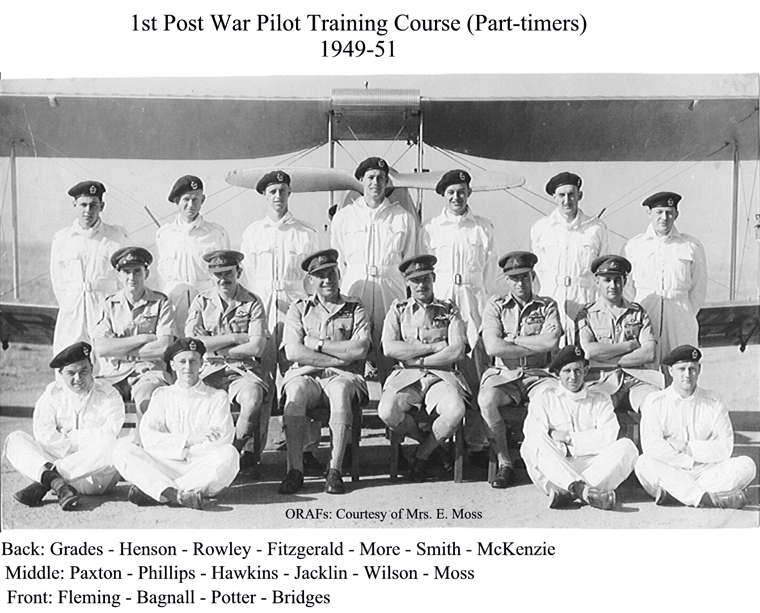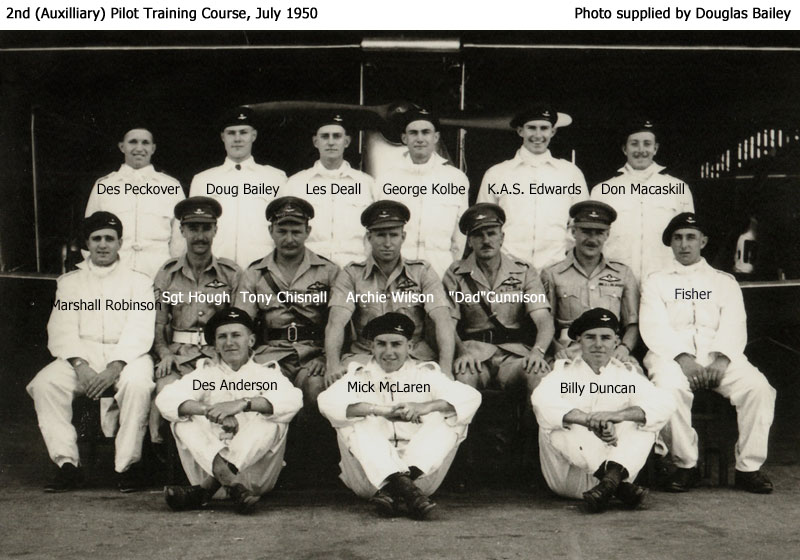 Awarded wings on same parade as 1SSU
Peckover, Kolbe and Fisher did not complete the course.
1 SSU Wings Parade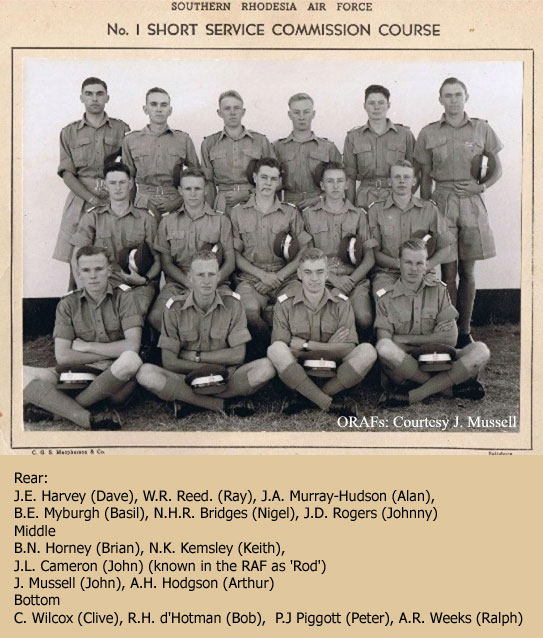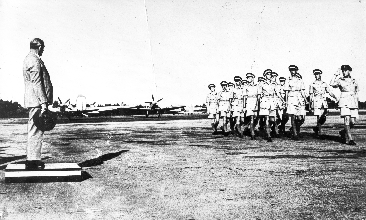 1 SSU Wings Parade, reviewed by Sir Godfrey Huggins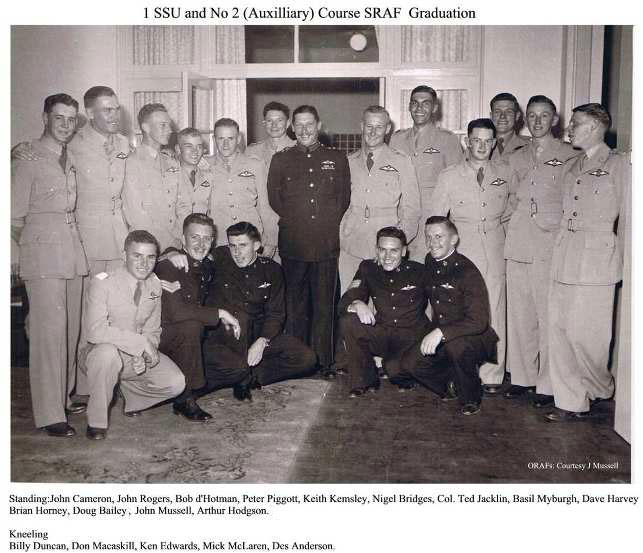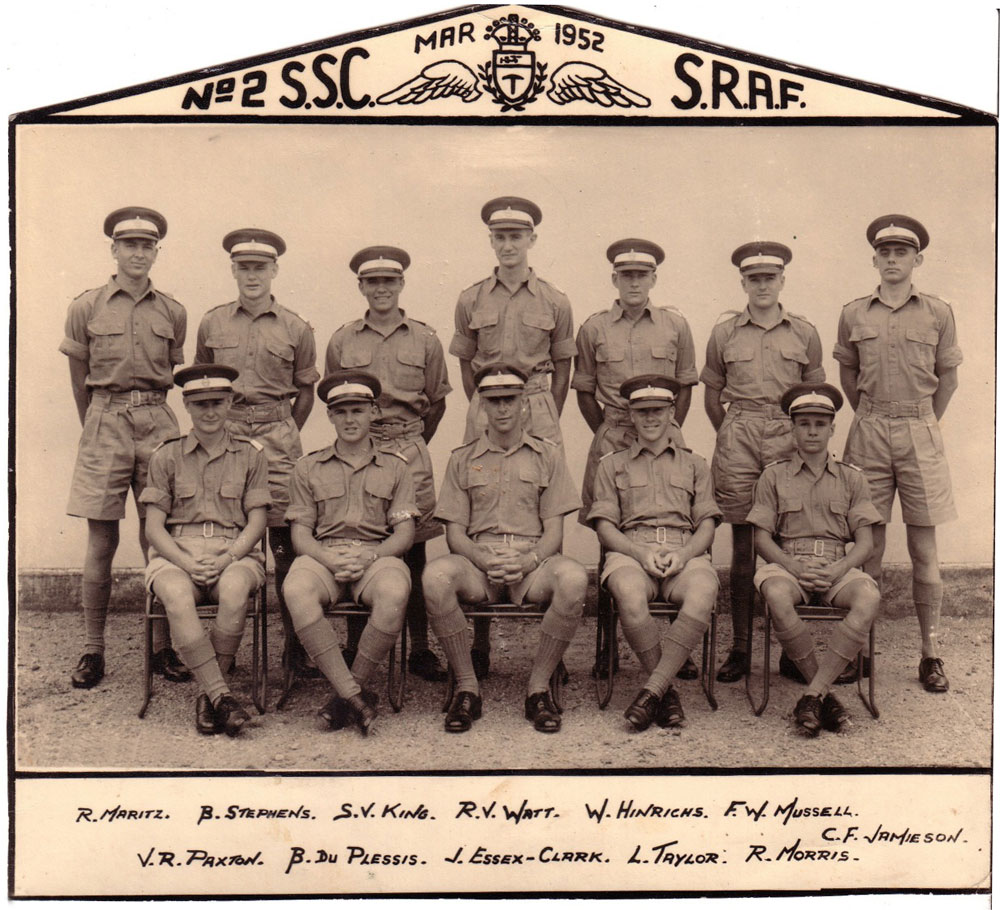 Photo above sent in by Pat King (also ex-Rhodaf) son of Vince King on 2 SSU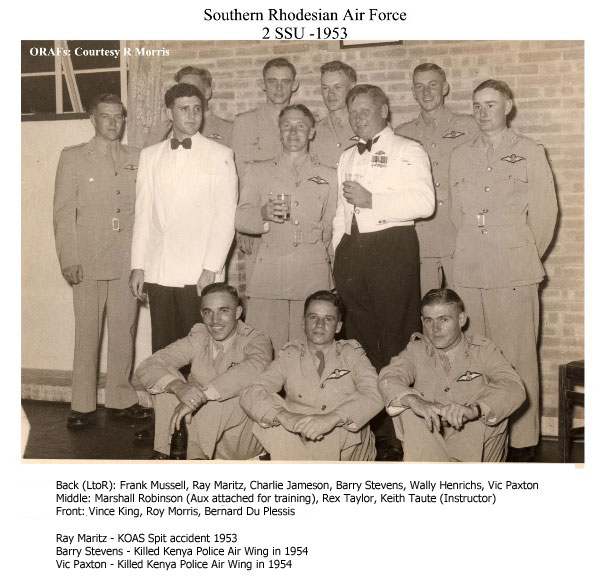 The members of 2SSU were:
du Plessis, Bernard; Essex-Clarke, John; Hindrichs, Wally; Jameson, Charlie; King, Vince; Maritz, Ray; Morris, Roy; Mussell, Frank; Paxton, Vic; Stephens, Barry; Taylor, Rex; Watt, Vic

This fly-past (above) was for the wings (No 2 or No 3 Course) parade with Police band in the foreground. The Spitfire pilots were all No 1 Course with John Deal leading. The two senior officers behind the saluting base are Gen Garlake and our CAS Ted Jacklin.
3 SSU: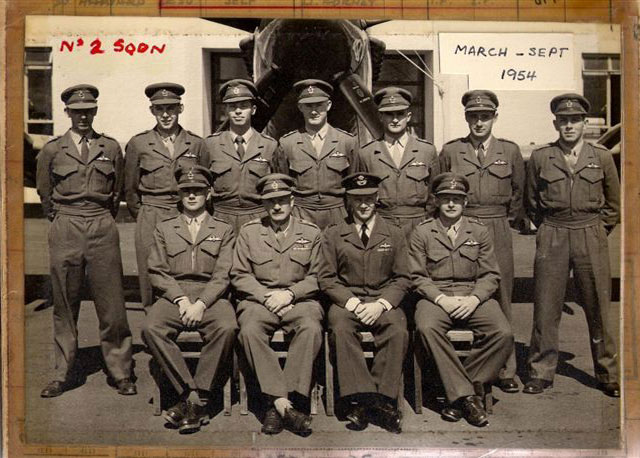 3 SSU photo supplied by Mike Saunders
4 SSU: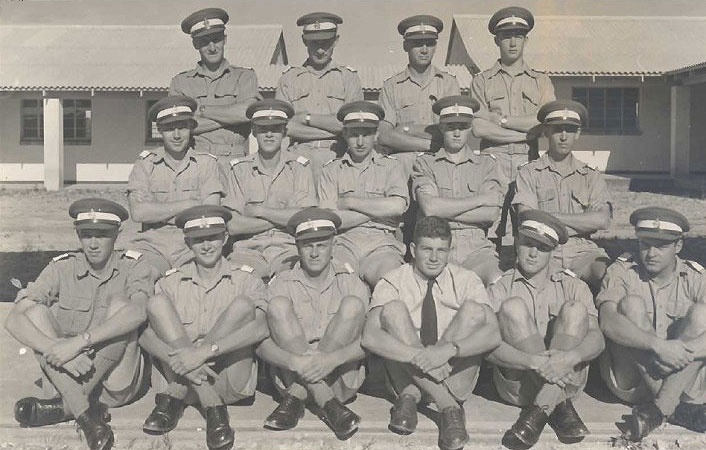 Course members (not in photo order):
Webb B. (Buster), Bebbington D. (Doug), Falk G. (Gary), Cary C. (Cliff), Hood R.(Robin), Jones E. (Eddy), Brent E. (Ted), Spann A. (Arthur),White C. (Cyril), Kipps L. (Lindsay) Ault B. (Brian)
5 SSU:
Do you have a course photo for this course? If you do, please e-mail to the web master. No need to compress or reduce the photos, we'll do it.
6 SSU: Attested March 1954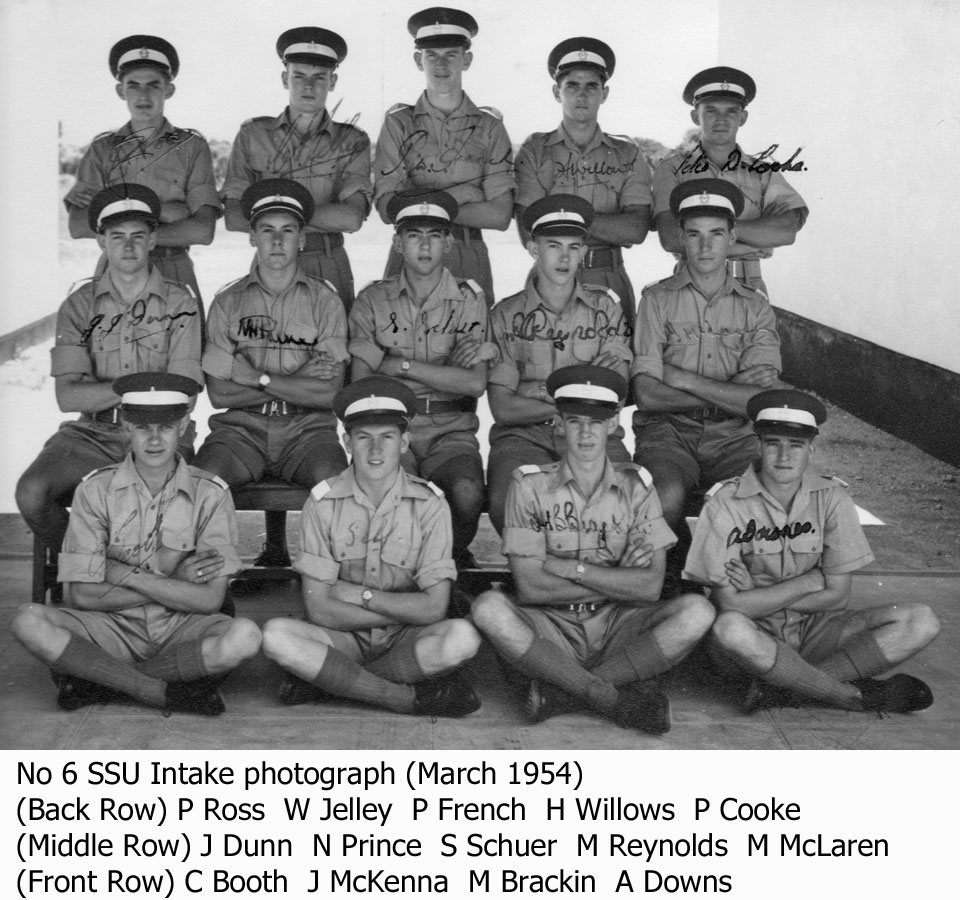 6 SSU: Wings February 1955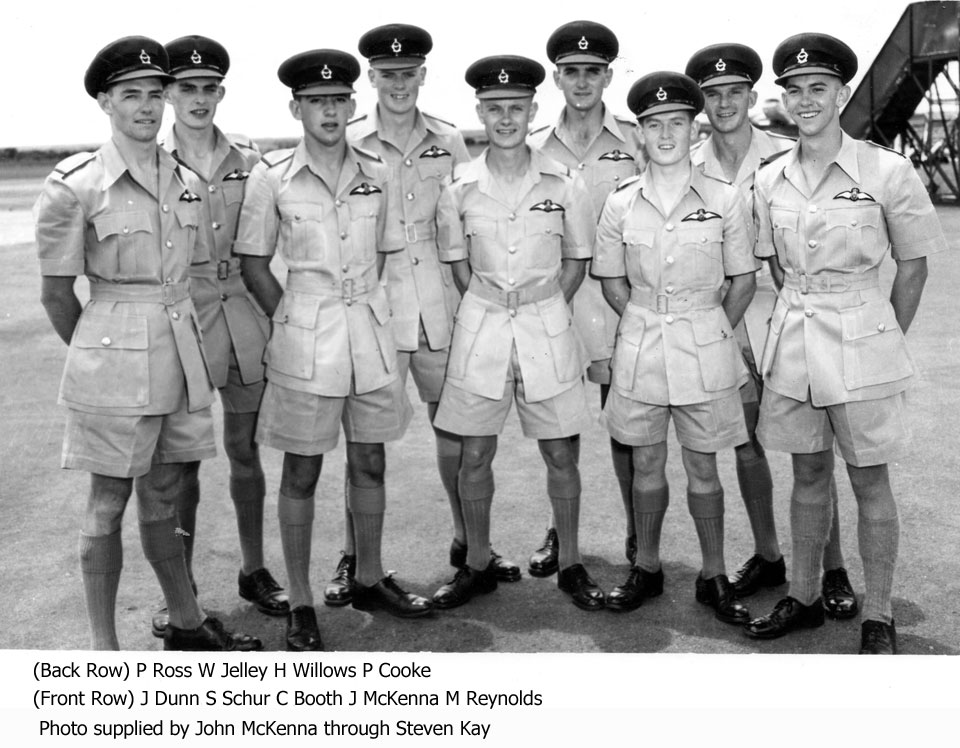 8 SSU: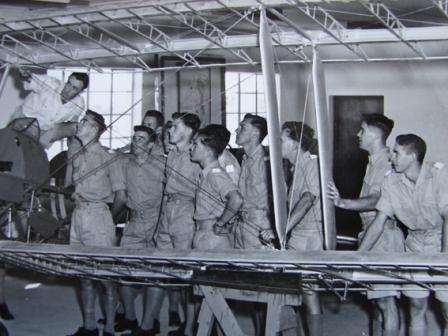 8 SSU, Attested 01 March 1955, Wings 28 February 1957
WO Fowler (airframes instructor ), Basil Green, Eddie Wilkinson, Brian Friday,
Walter Garrett (KOAS, Vampire crashed south of New Sarum on August 21, 1956)
(Behind Garrett will be Eric Atkinson), Brian (Dogs) de Jager, (Behind de Jager will be Mike Rigby)
Peter McClurg, ?, Scott ( killed in M/cycle accident before flying ),Justin Varkevisser, Randy du Rand
Information courtesy of Pete Mc Clurg
Photograph courtesy of Bill Sykes
10 SSU Wings Day

Law, PB, Wright, Cary, Hofmeyr, Barnes, Galloway, Ferguson, Thorne, Corrans
(Pre-wings, 18 Aug 1958)

"For some reason, there was no Sword of Honour awarded on the occasion of the 10SSU Wings Day. In fact there was hardly even a parade. We were simply formed up in front of the Officers' Mess and called one-by-one to have our "Wings" pinned on by Sir Roy Welensky, attended by Fg. Off. Mike Gedye. This was a big let-down, as 9SSU had a huge parade and their "Wings" pinned on by Queen Elizabeth the Queen Mother. Possibly 10SSU didn't have anyone deserving of the Sword of Honour. However, Dicky Bradshaw saw fit to inscribe the following in a book he gave me.
Best Regards Dave Thorne":