This article is believed to be an extract from the Rhodesia Herald. Additional information and corrections received in 2009 from Joe Holmes have been added in red.
Security Forces killed 31 terrorists in a 12 hour battle on the slopes of a rugged kopje covered in dense bush in this fertile valley on Monday. It was the most spectacular kill by security forces in the war to date.

The army officer commanding the area, Lt. Col. Peter Browne, described the action today: "It was a good war and we enjoyed it. Fortunately the enemy lost."

The Commander 3 Brigade, Brigadier Derry Maclntyre, flew to a forward air base today to congratulate the soldiers of the Rhodesian African Rifles who took part in the operation. He was obviously delighted and rubbed his hands with glee. "Bloody fine effort, chaps" he said, and with a wide grin he added: "We shall go on slotting them as fast as they come in".

Col. Browne added: "This is only the start. Join us in a couple of days. Get yours before the Christmas rush."

DEATH

Security forces lost one man in the operation - Trooper Francisco Duarte da Costa. He was 31, married, and came from Portugal. Capt. Kip Donald said everyone involved in the operation was very sad about the death of Tpr. da Costa. But he said: "You can't go down in the doldrums because one man was killed "

The operation against the terrorists started at 5.45am and ended about 8pm with the death of the final two terrorists. It took place about 10km from the Mozambique border. Col. Browne said the terrorists had infiltrated from Mozambique. "They were very ill-trained" he said. "They had been pushed in here from Mozambique with the obvious intention of trying to prolong the war.

MARCHING

"They had been marching for two days and had not eaten for two days." Capt. Donald said security forces received information of the terrorist presence at about 4.45am on Monday. The first contact was about one hour later on the western face of the kopje, with Air Force back-up. Follow-up operations finished on Tuesday.

Capt. Donald said the operation was particularly difficult for the security forces because of the dense vegetation. "The terrorists lie low until you virtually bump into them," he said. "You come across them face to face. "You have to clear just about every bush. They just lie there. They will not fire at you unless you actually step on them. It is nothing to have a contact at a range of less than one metre."

Capt. Donald said that in the follow-up operations security forces found one of the terrorists in a kneeling position. His AK rifle was pointed at his chest and one round had been discharged.

LOVERS

The security forces mainly responsible for the record kill are from 3 Commando RLI. They have the emblem "Lovers 3 Commando" on their sweat shirts. "A success like this is bound to be a great morale booster to the troops," said Capt. Donald.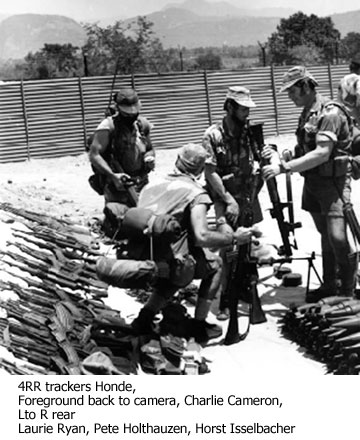 Sgt. Laurie Ryan (36), bearded and brown from life in the bush, was one of the first to contact the terrorists. "I came across two lying in the grass." he said. They were about two metres away. We shot them. "Then we came across another two. One of them threw a grenade that went off about two metres from us. "Further up on the ridge we came across a terrorist lying in a ditch. We threw him a grenade and that sorted him out.

Sgt Laurie Ryan, was the unit leader of our 4th Batt Tracker unit. He was in charge of the Sparrow stick responsible for tracking and initiating the contact that day [that we later referred as The Battle of the Honde]. At the time Laurie gave his name as Graham due to the well-placed suspicion we had of foreign reporters and their slanting of stories to show Rhodesian SF in a bad light. As a matter of course when approached by one we would give incorrect surnames. Also in the Sparrow stick was Charlie Cameron, Horst Isselbacher and Pete Holtshauzen.

"One of the chaps in our stick got wounded but he continued fighting for three hours. In all we were in five contacts with bullets flying everywhere. But we killed six. It was a well-commanded operation by Capt. Donald. At times it was exhilarating. I am looking forward to another one if we have this sort of success."
WOUNDED

Wounded in the operation was Cpl. Nutley. He has a shrapnel wound in his face. In one of the contacts he was fired on by a terrorist lying in a ditch just over two metres away. In another he sighted a terrorist in a river. "He ran like hell," he said. "There was very heavy firing and we stopped the terrorists coming down from the kopje. I found one lying in the bush. I killed him. As I fired I hit his two grenades. They both went off and I got shrapnel in my face.

"In another contact a terrorist fired at me from short range from a ditch. I shot him. As I moved in to see if he was dead another terrorist in the ditch opened up. He was also shot." Cpl. Hutley has been 13 months in the army. He killed three terrorists in the operation.

HARD

Cpl. Bob Smith was in a stick that killed two of the terrorists. They shot one more who crawled into the bush and bled to death. "It was the hardest contact I have been in," he said "but, man, we cleaned them out."

A member of 1 RAR, a Karanga tribesman, said he had no qualms about killing black terrorists. "I am a soldier" he said. "The politicians can come with their politics, I am fighting to win this war." This was his sixth contact.

The leader of the gang lay dead on a concrete slab beneath plastic sheeting at Rusape police station today.

COMMUNIQUE DETAILS

Security forces recovered vast amounts of war materials, including 82 mm mortars, RPG 2 and 7 rockets, cases of 7,62 intermediate ammunition, landmines, and RPD machinegun, Chinese stick grenades, AK and SK rifles, sophisticated medical army kit-bags. The 31 terrorists killed in this operation were part of the 33 killed announced by Security Force Headquarters today. This brings the total this month to 173 - 10 per cent of the total terrorist force reported to be operating inside Rhodesia.

The communique confirmed that security forces in a clash on Monday killed the terrorist leader and seven members of the gang responsible for the murder of Mr Theophilius Greyvenstein (61), at the Ashton Farm in the Mayo district on September 16. Mr Greyvenstein, a grandfather and father of three daughters, was murdered beside the security fencing to his farm after terrorists had destroyed the building with rocket amd mortar fire.

The gang have been operating in the Mayo area for over a month and are believed to be the same group responsible for another attack on a European homestead. "Their obvious aim was to programme the locals and force the European farmers from the land," said Special Branch Supt. Brian Thomas.

The communique also announced the death in action of Field Reservist Gary Vivian Hunt.